Post by Jason Woodard on May 11, 2009 15:01:23 GMT -5
Okinawa Katana, Dojo ready, Made and sold by
www.roninkatana.com
, Rockwell hardness,50/40, oil quenched, hand sharpened, blade length 27 inches, over all,40.9, Full tang, grip, carved wood 11.4 inches,the Saya is done in a Heavy lacquer.. the wrap is in genuine ray skin, it also came with a nice up right stand.. price $175.00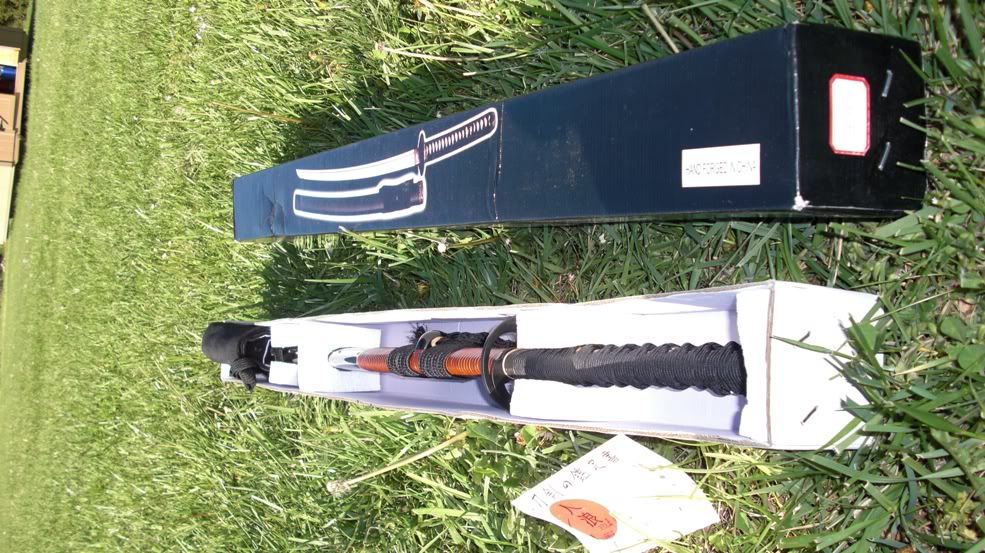 As most of you know the sword world has really taken off in the last 15 yrs or so.. Making it easier and easier for almost anyone to be able to afford a well made sword..From Mid evil European styles to so many different kinds of Katina's.. There are just so many choices to pic form these days.. "So many swords and so little time ,cash or both.. I bought my first Katana at a knife and gun show when I was 12 I think.. It cost $35.00 was made out of a very soft steel and was not sharp..it lasted about one summer with me running threw the woods fights all those Ninja`s..;) Fast forward about 14 years later.. I 'like many of you out there I`m sure" Bought one of those Katana`s you see for sale on TV late at night..Made form good old 440 stainless..A very pretty wall hanger for sure but no more..
These days you can pick from so many hand made Katana`s it`s hard to decide which to choose.. Great reviews seem to pop up each week.. You got to love it if your a sword lover like me

.. Now I`ve bought my share of Katana`s over the years and do enjoy them a good bit.. I like viewing the Vids at You tube of people testing and cutting with Katana`s.. I was look a few weeks ago when I came across a pretty harsh test on a Katana. Done by "Ronin Katana". I`m not sure if I joined that owners list or what..I don`t recall. but.. I checked out his main site on you tube.. To the right of the page it listed since 2005 the owner 'Chris" Has been producing his own line of katana`s under the 'Ronin Katana banner. It reads "the tang of every Ronin Katana is engraved at the forge.. they also state that they take there testing very seriously and "beat the hell out of them until they break or they get tired".. Now this got my very interested for sure... I clicked over to there EBay store.. Then did some more reading on there Katana`s.. I liked some of the statements being made on the page. like.. In there three year history they have never had a report of a blade breaking!! also all there swords are made form 1045 and from the same forge.. They state they tested samples from nine forges in Asia and choose the one with the highest quality blade and fittings.. Now what also got me was the fact that with over 1000 swords sold they still have 100% feedback with EBay.. I`m sure
most of you know how rare that can be with these kind of items and that high of a number in sales.. I know one thing... Sword buyers can be darn picky!!!! So I was impressed.. I checked there EBay store and picked myself out one of there Okinawa" model Katana`s for myself... A few days later it was at my door.. I was now ready to see what the good old UPS man had brought... The shipping box was well packed.. The Katana had no chance of flopping around during shipping.. Nothing worse than a damaged Item sent to you door.. The Ronin Katana came in nice black cardboard box.. nothing to Fancie but then again I don`t care what the box looks like.. I opened it.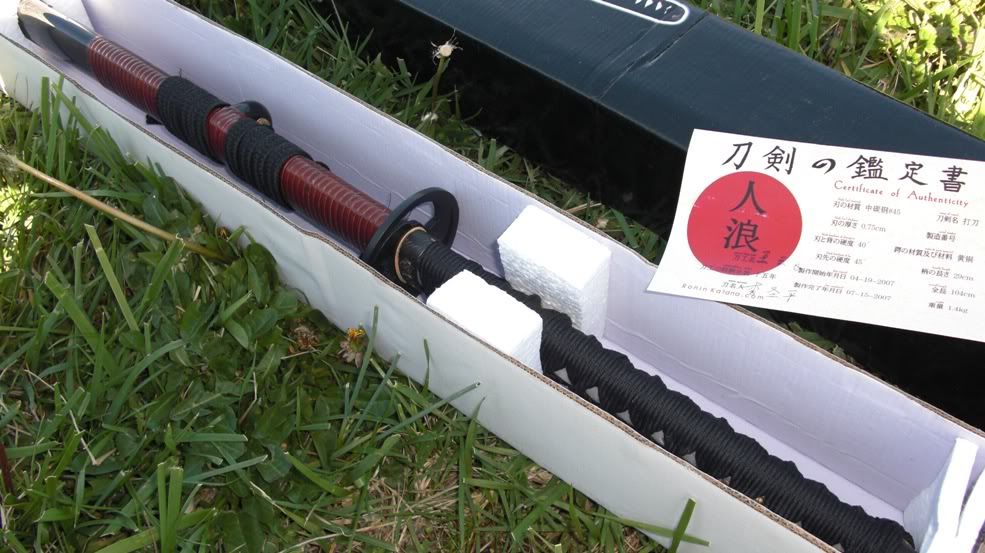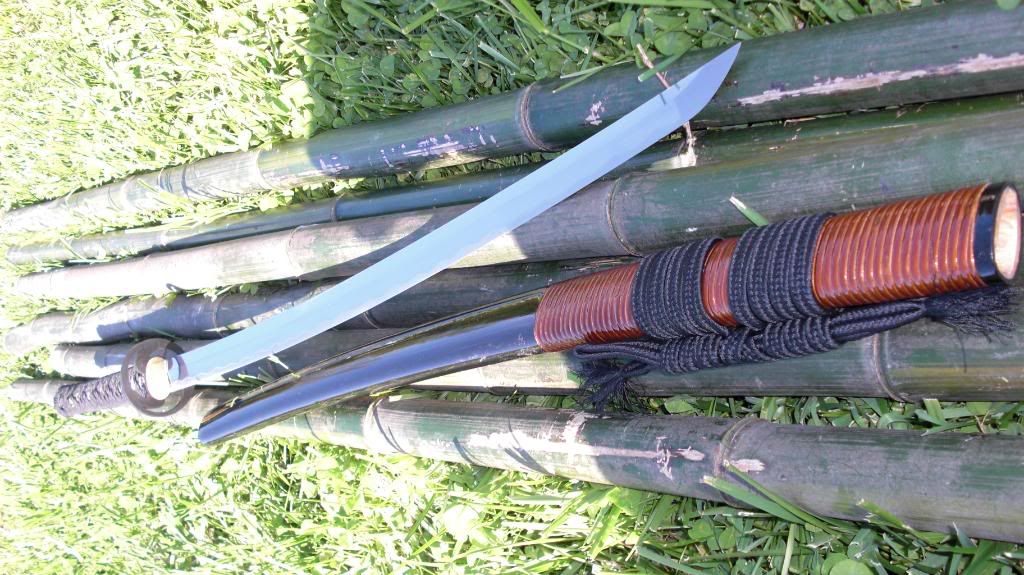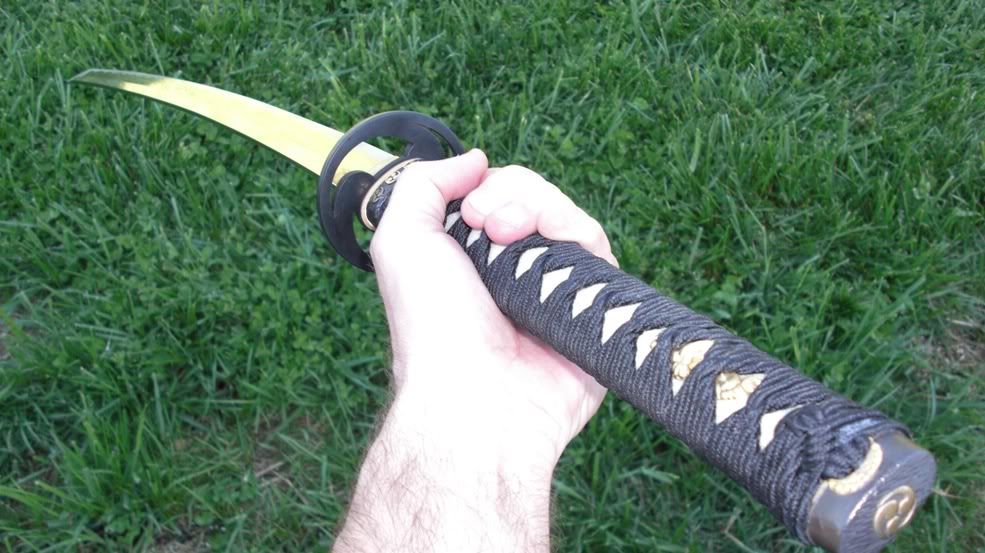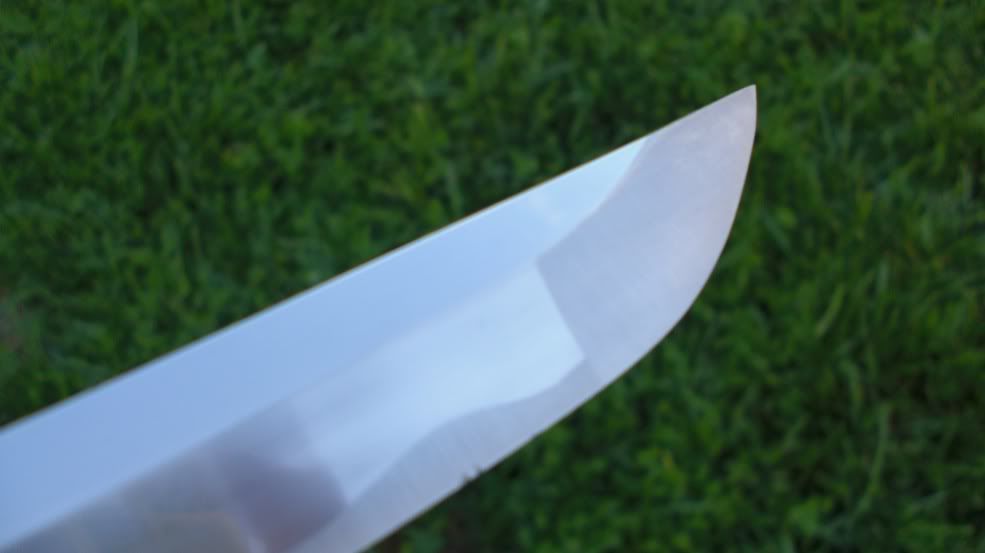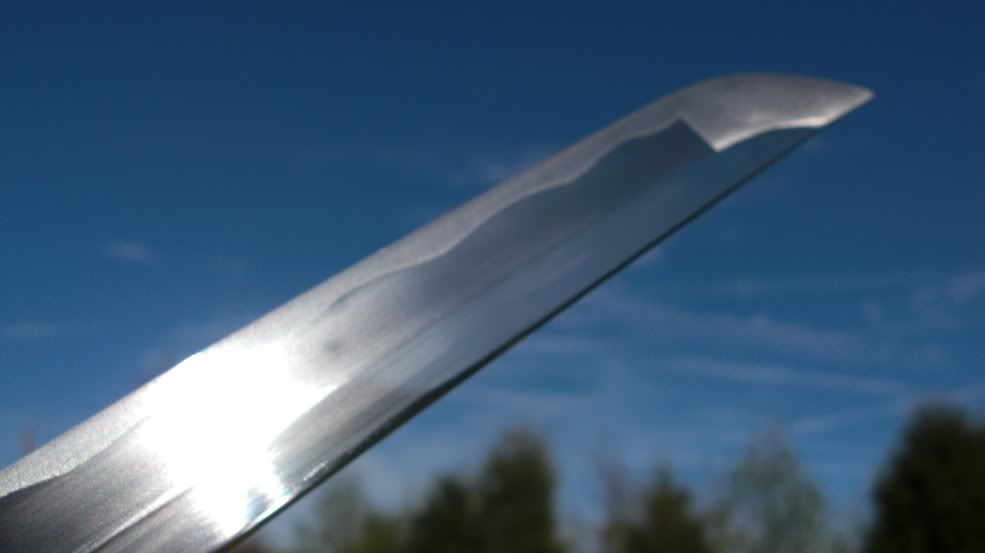 The sword was well packed inside.. It came with a COA In Chinese I`m guessing and a nice sageo I think it`s silk .. I took the Katana out and removed it from the Saya. They Fit very tightly together and I had to give it a little tug to pull loss.. I liked that tight fit ,felt very solid.. The blade was covered a thick oil.. I whipped it down.. Then gave the blade a good going over.. It polished up very quick and was just about flawless .. I really enjoyed giving it a good looking over... Man this blade is sharp!!! I choose this model for it`s simple design.. To me less is more when it comes to Katana`s.. I also choose this one because I liked the look of the "Saya" with its wood tone near the top.. I took the Okinawa
outside to get a feel for it.. I worked on a few practice swings and
thrusts. The Katana felt very solid from the get go.. Almost heavy..,but very well balanced.. I could not wait to start testing.. I went t down to a local river side and cut down some 2 1/2 to 3 inch thick bamboo trees for some test cutting.. My first test was a large piece of bamboo strapped down on my deck... I did some up and down cuts ..The Okinawa cut threw them with not to much effort.. I went ahead and cut 4 of these down to size.. Lots of fun.. test 2 I lined up 8 gallon jugs filled with color water..Just thought it would look cool.. .I took a very hard swing, and came up a bit high.. On
the back swing a cut right threw them all.. I just love doing that.. I think I could have cut threw 10 of them..!?!? Maybe next time.. !?!?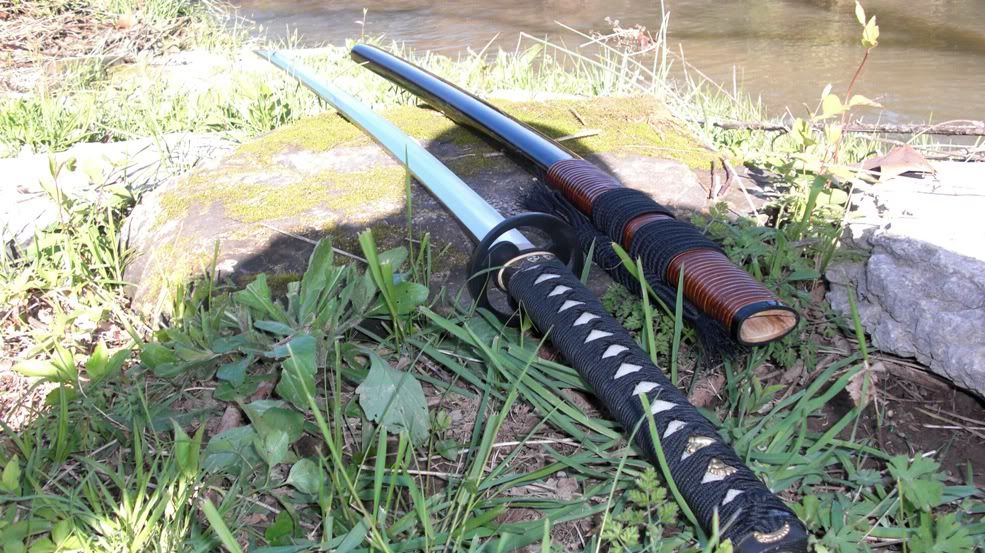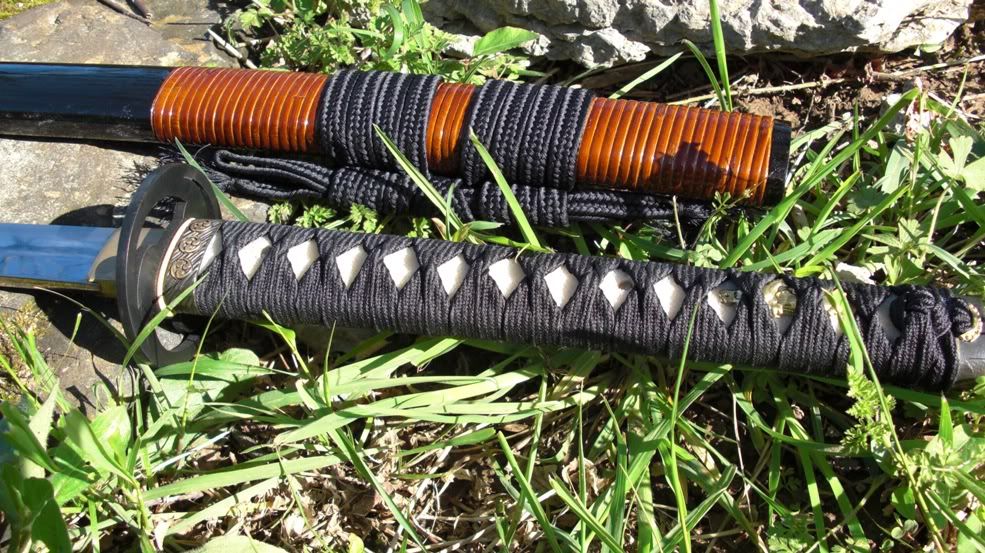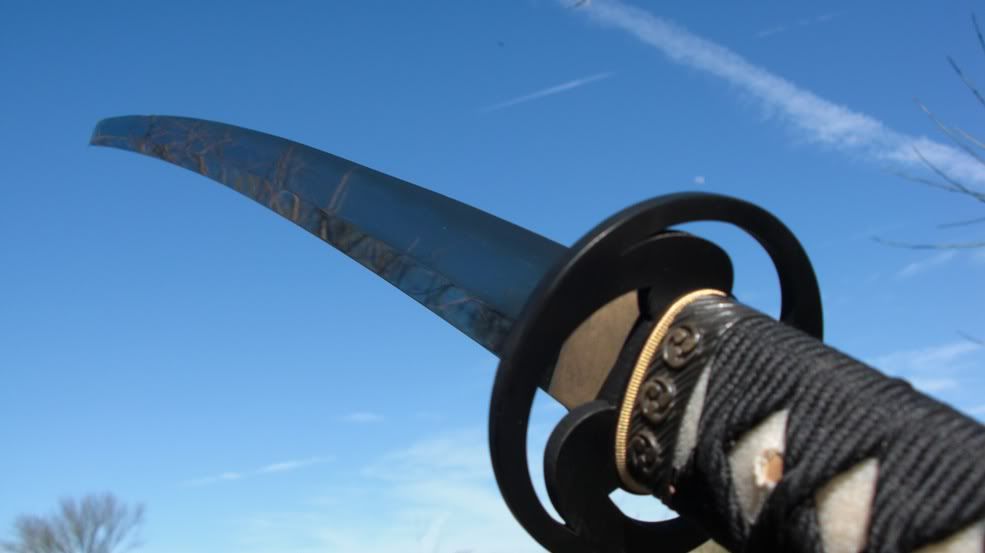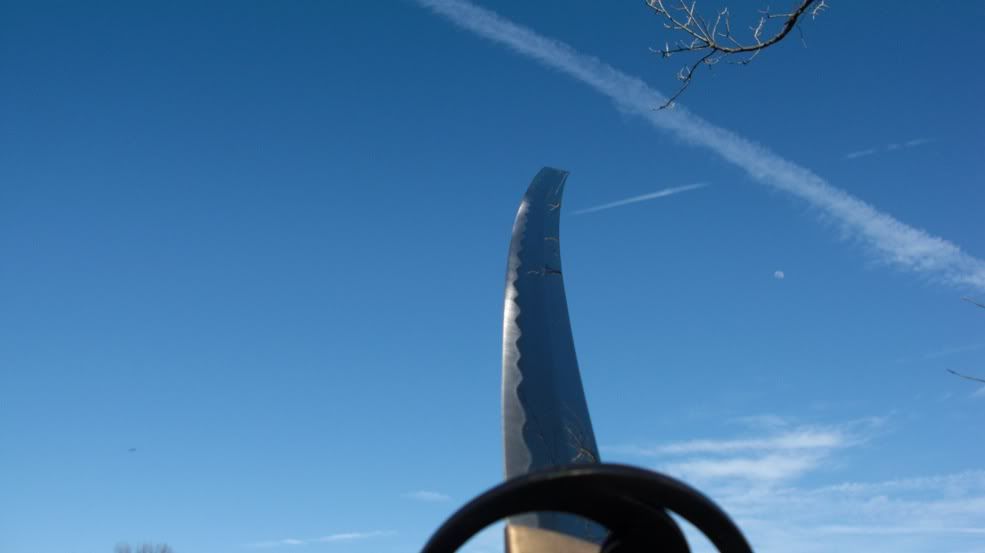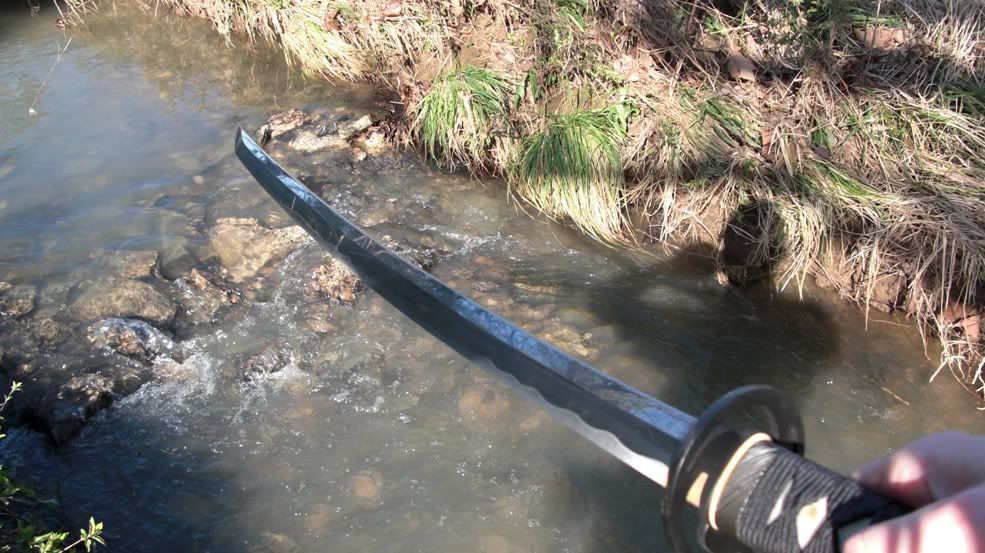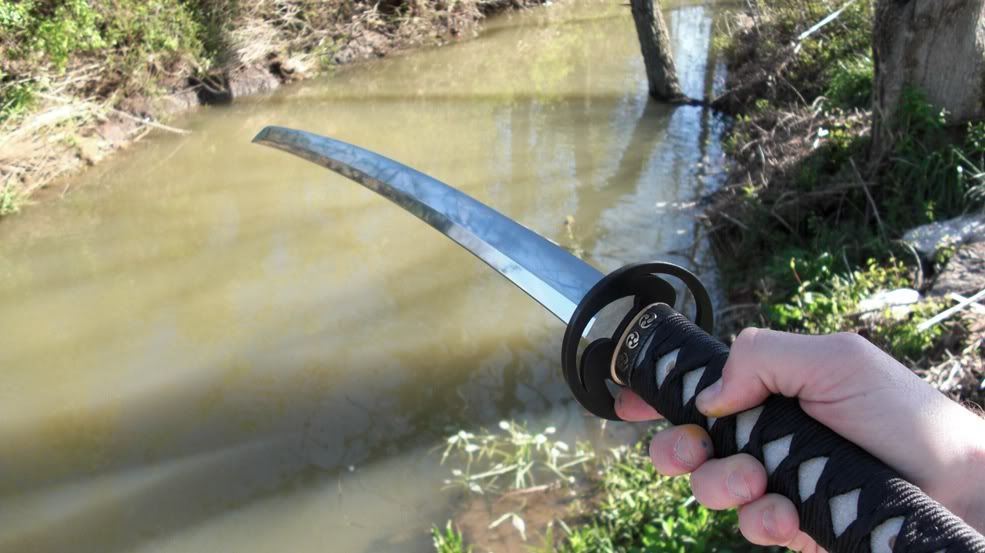 Anyway the katana made the cut and I did not feel much resentence .. Test 3 I set up this darn crazy way to fat pool noodle my wife bought a few years ago for the boat.. The thing is 8 inches think and 3 feet long, if you get on it in the water you fall right off.. Most pool noodles are about 4 inches thick and 5 feet long.. I hated that thing and new I`d findnd a good use for it someday. I I gave it a few cuts with the Katana... Dead and gone!!! The sword did great and the cuts were very clean.. Good bye mutant noodle, I`ll
miss you

Test 4 I took a few swings at a few smaller plastic bottles to see if it would still make clean cuts on such lighter targets.. It did just fine.. Test 5 I was a bit scared to do.. I set up a large seasoned hickory stump and took several hard swings down on the stump.. The blade dug in deep with each swing..After I was done I checked the blade to make sure it was still straight and everything was still tight.. It was.. The last test.. I lined up a 5 gallon thick plastic water bottle ,I gave it a few thrusts.. then came down on it with a medium to hard swing..It cut almost all the way
threw the bottle.. Did I happen to say that this sword is very sharp!?!?!?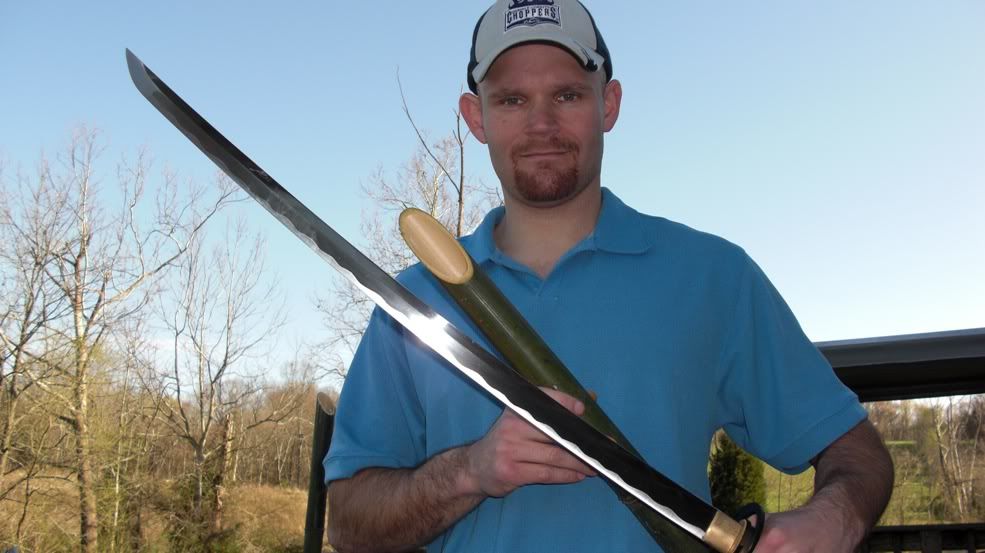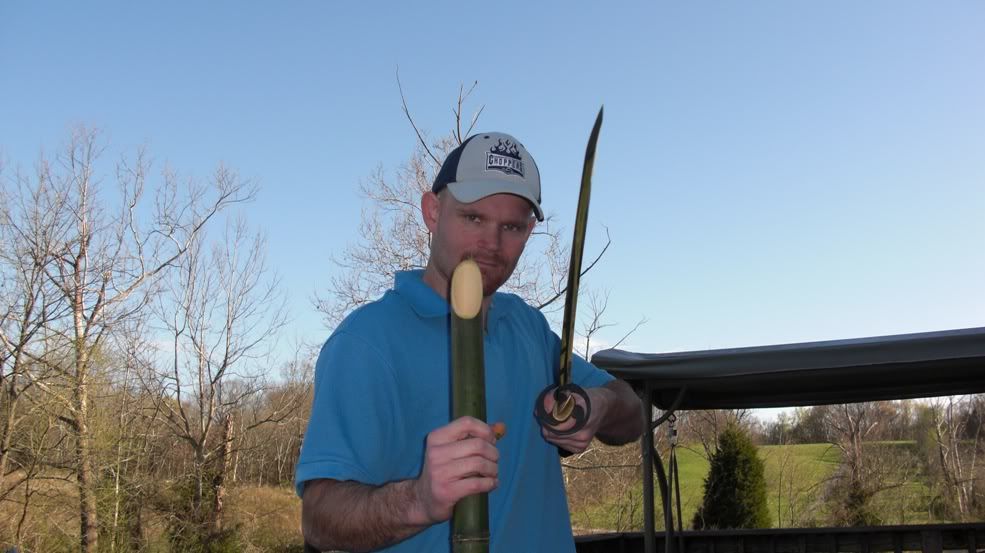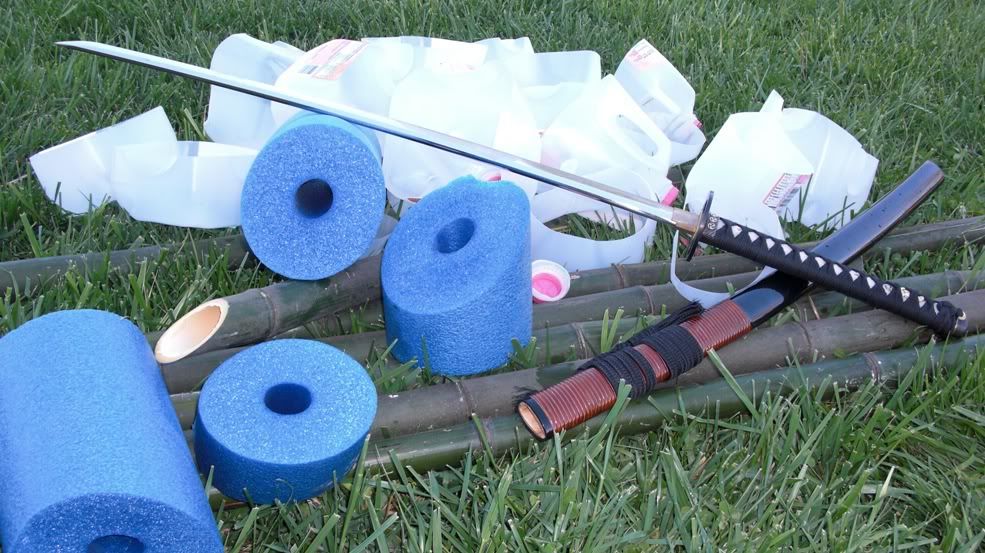 .. When finished my testing for the day.. I gave the Katana a good cleaning. I checked all the fittings for tightness, I checked the blade.. Everything was still tight and the blade seems just fine..All I needed to really do was take some 1200 grit paper and buff out the marks the stump and the large plastic bottle left behind.. I oiled down the blade.. It looks brand new again.. The Okinawa held up better than I would have thought..I`m Impressed with this sword and would recommended this one for your collection...
I would like to thank "Chris" the owner of Ronin Katana`s for being so helpful answering all my questions.. Thank you for your time.. Make sure to check out Chris`s web site at....
www.roninkatana.com
Jason Woodard..