Post by herbertwest on Aug 9, 2009 1:12:00 GMT -5
Introduction
This sword is made by Swamp Rat Knife works, the second company in the Busse family of knife makers. The other two companies are the original, Busse Combat, and the latest company, Scrap Yard Knife Works. Busse Combat came out with several swords years ago. They were well made and received great reviews from all who purchased them. Like all other Busse creations, they were bombproof instruments of destruction. They were also fairly expensive. Combat grade versions started at around $600-$700 from the company store and they often bring in excess of $1000 on the secondary market. When Swamp Rat announced their Waki, I was very excited. I have been collecting and using Busse family blades for a while now, and a newer, ore affordable sword was something collectors had spoken about like it was some kind of mythical creature that was fun to talk about, but would never be realized. Busse knives have earned their reputation as some of the toughest and most well made tools in the world. Preorders were taken at Blade Show in Atlanta, and I made sure to get mine in.
Historical overview
Busse Combat released their "AK47" katana like blade around 2005. It was basically a katanaesque tactical sword made from their proprietary INFI steel. They later released a similarly styled but smaller tactical sword called the "Ruck". This created a katana wakizashi kind of pairing. The Swamp Rat Waki follows in that vein but makes the origins of the blade concept even more clearly stated. It is a nontraditional "tactical" wakizashi. It doesn't use traditional material or traditional manufacturing methods, but it does draw some of its features from traditional wakizashi. It is a relatively short sword. It has a fully convexed blade profile. It also has a blade shaped roughly like that of a wakizashi.
Initial Impressions
The sword arrived in a triangular USPS shipping container. It was sheathed in the traditional Busse cardboard sleeve and padded with crumpled paper. It did not appear to be covered in any kind of preservative chemicals. It arrived about a month and a half after the preorder was made and about 3 days after the company gave notice of shipping. When I first pulled it from its class cardboard sheath, my eyes lit up and I couldn't hold back my smile. It looked and felt great. I mean, it felt even better than the models I had handled at the show. The color combo I had chosen looked nice and after carefully checking the edge I was pleased to find it to be a rather coarse but screaming sharp edge. It was a nice change from the KoA sharpening service.
Statistics
Specs are:
OAL: 27in
Blade Length: 17.5 in
It appears to be machined from a 3/16 inch stock. I haven't weighed it yet, but it feels like a little over 2 pounds. It does not have a tsuka, but features a small protrusion near the beginning of the blade that acts as a hilt/guard. The center of balance is a little less than an inch from the hilt. Center of percussion can't really be assessed due to the stiffness of the blade. The blade is actually quite flexible, just not under the puny stress of a strike to the pommel.
Components
The Waki is made from a single piece of coated steel. The steel is a company standard called SR101. It is basically a 52100 ball bearing steel that has undergone proprietary heat treating. The characteristics of the steel are excellent edge retention, incredible strength and toughness, and poor corrosion resistance. It has a guard as well as a small choil and an odd looking pommel with a lanyard hole. The 17.5 inch blade (as well as the rest of the steel tang and pommel) is covered with a protective coating, as are most Swamp Rat blades. The coating is intact and uniformly applied. Swamp Rat makes all their blades through the process of stock removal, not forging. This one has a full convex grind after the small ricasso with just a hint of a secondary bevel. The grinds are clean and even The tip is ground at a slightly more obtuse angle than the rest of the blade. The sword came with a hair popping edge. This description means that while it will not shave smoothly due to the toothyness of the edge, a pass with very little pressure will cause the hairs to jump right off your arm. The tang extends the entire length and height of the handle. The blade has been differentially heat treated.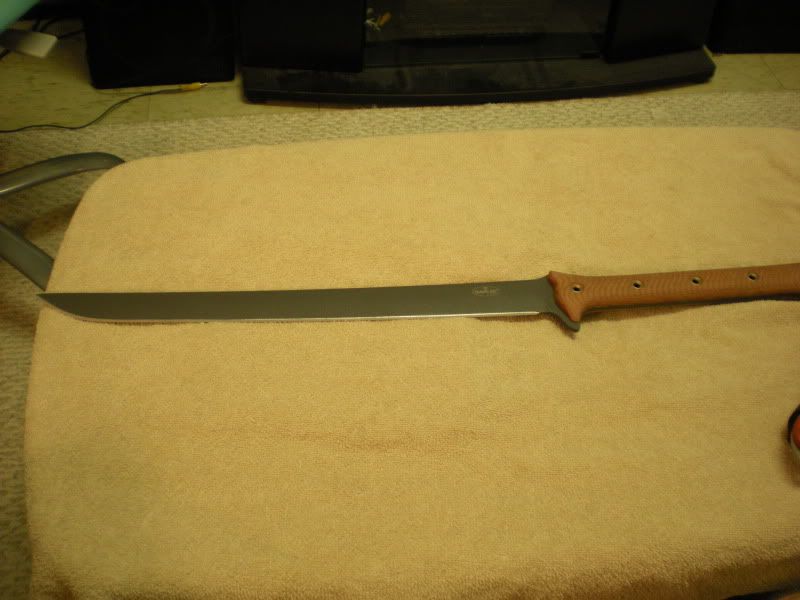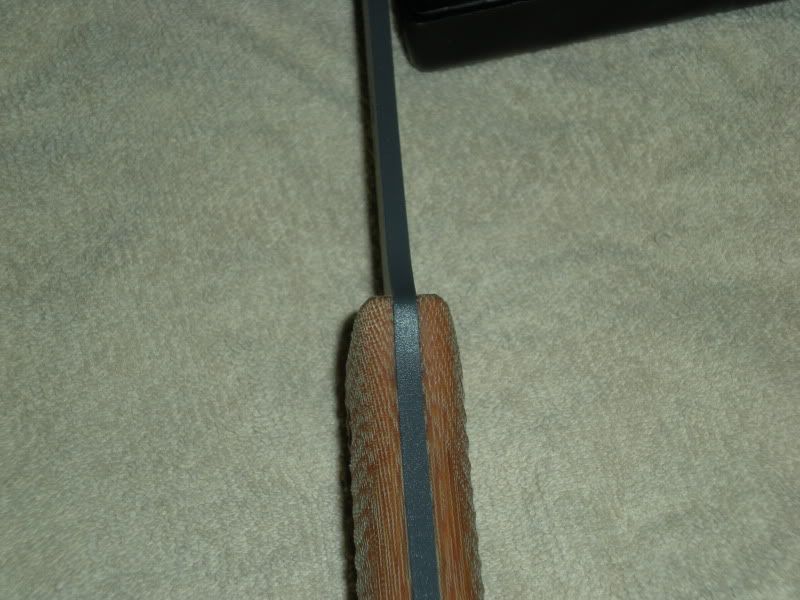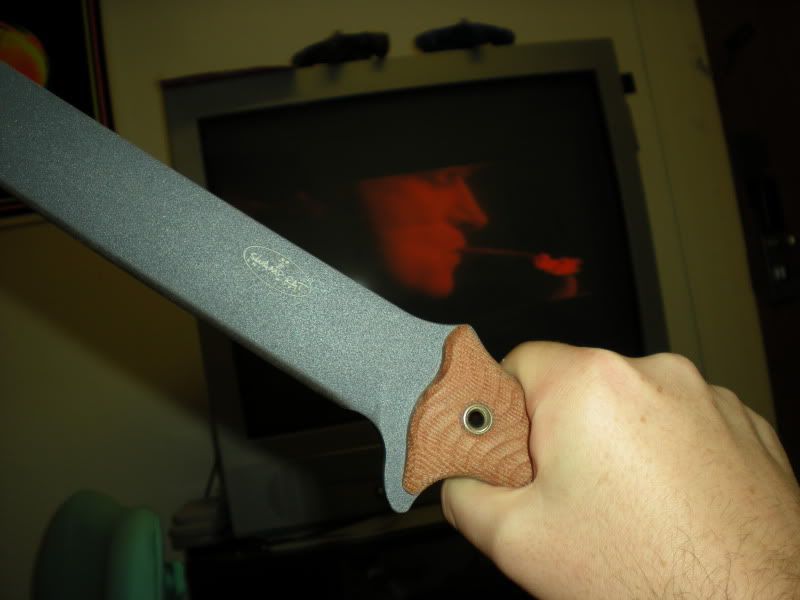 The two handed canvas micarta handle is textured on the sides and smooth on the top and bottom. The final smoothing has rendered the scales completely flush with the exposed tang. The scales are held in place by 5 hollow rivets. The textured surface on the sides provides a secure, comfortable grip without being too rough on the hands.
The pommel is a rather odd looking deal. It looks like it has two ears or horns or something, each with a lanyard hole drilled through it. I spoke with the manager of the Swamp Rat company store and he told me there were plans for the weird looking pommel, but wouldn't say any more. I have no idea what their up to with it. They might come out with some kind of goofy little doodad to hold a challenge coin or something. There's just no telling. In any case, the pommel doesn't affect the functionality of this sword in my experience.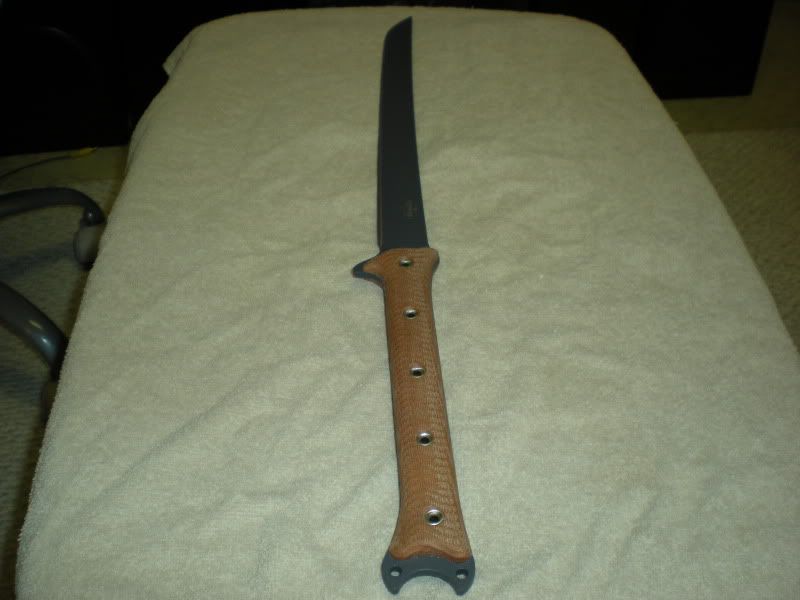 There are no rattles. The sword and its fittings are 100% locked up tight. It came with the awesome cardboard sleeve sheath that any Busse buyers will be familiar with.
Handling Characteristics
Although it features a two handed handle, this sword feels great in either a one or two handed grip. It also feels great in a reverse grip. The balance is spot on. It feels neither tip nor pommel heavy. It swings lightly and is easy to control. Stopping the blade and changing directions takes little effort.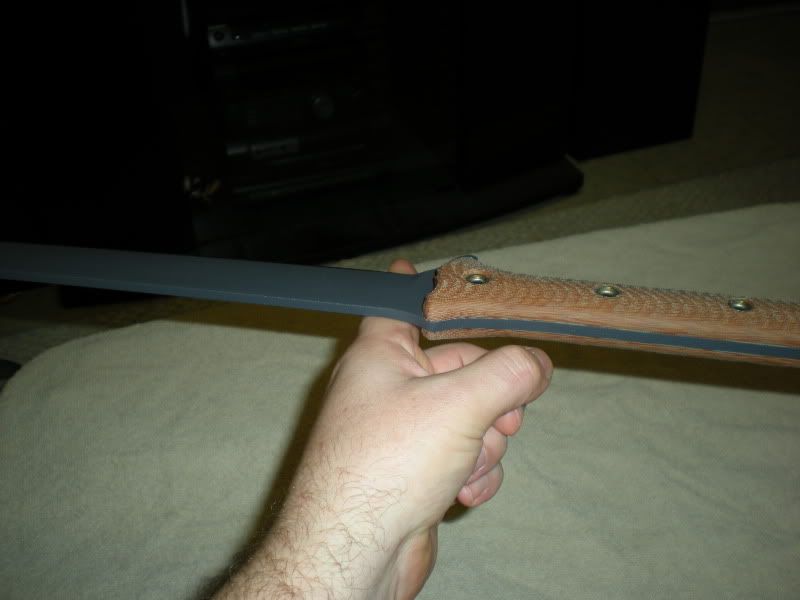 Test Cutting
Cutting with this sword is a breeze. Nothing I did came close to "testing" this blade. It slices through any size plastic bottle with ease. Most of the time I can't even feel the blade passing through the material. It also handled a foam noodle with no trouble, and my "cutting stand" doesn't even hold the things securely. At my friend's ranch we hacked up some wood with it. it went through a 4 inch pine tree like butter. It hacked through 1 inch branches with one easy swing. My friend wanted to cut a bottle long ways. He set it on a 4 foot high stump that was about 8 inches in diameter. With one easy overhead cut the sword neatly cleaved the bottle and
buried
itself 3 inches into the stump. All the wood hacking had zero effect on the blade. It didn't even mar the coating. When we were finished it almost seemed sharper than when we started. I even threw it like a spear a few times with no ill effects. It hits like a ton of bricks, BTW.
Swamp Rat's test cutting and stress test vid. I talked to the guy doing the testing at Blade Show. He said that he would have bent it further, but the cheater bar was on the ground.
Conclusions
This sword is fantastic. While the edge could use a good polish, it cuts, chops, and slices with great ease. The heavy handle section very effectively counter balances the thick stock of the blade and balances the sword out nicely. The handle and fittings are secured as tightly as if they were cast together. It feels awesome in my untrained hand, and even my horrible technique can't keep it from laying waste to everything I put in front of it. It is a little on the heavy side for a blade of its size, but I don't consider that to be much of a detractor. I think for a little less than $400 it is a good value, but at that price it probably could have come with a basic kydex sheath. While it might sustain some minor damage in the event of a nuclear blast, I don't think I will have to call on Swamp Rat's rock solid, all inclusive, life time warranty.
Pros
Hair popping sharp blade
Great balance
High quality construction
Super tough and durable
Coating decreases maintenance worries
Fully convexed blade
Cons
A tad heavy
A little on the expensive side by my standards.
No sheath (not really unexpected after dealing with any Busse company)
Coating necessarily interferes with slicing by its nature
I would recommend this to anyone who appreciates a tactical sword.