Post by Tom K. (ianflaer) on Feb 15, 2010 19:03:32 GMT -5
Review of the Ronin Katana Dojo Pro model #6
By Tom K
A little while back Chris Scoggin of Ronin Katana posted a thread in the manufacturers and vendors area to discuss his new Dojo-pro line of katana and the fact that while they were through hardened, some of them showed what appeared to be a hamon (or hamon-like activity). The thread turned pretty ugly for a while but eventually cleaned up and some excellent information was shared on hamon/temper lines and TH vs DH. Here's a link if you want to read it all:
sbgswordforum.proboards.com/index.cgi?board=europeansword&action=display&thread=13894
Well, it wasn't long after that thread had run its course that Paul posted in the VIP reviewers forum that he was looking for some of us to test one out and write a review. I jumped on that fast since I had followed the thread and my interest was piqued. Paul wasted no time sending me a dojo pro #6 and this is the sword I will be telling you about today.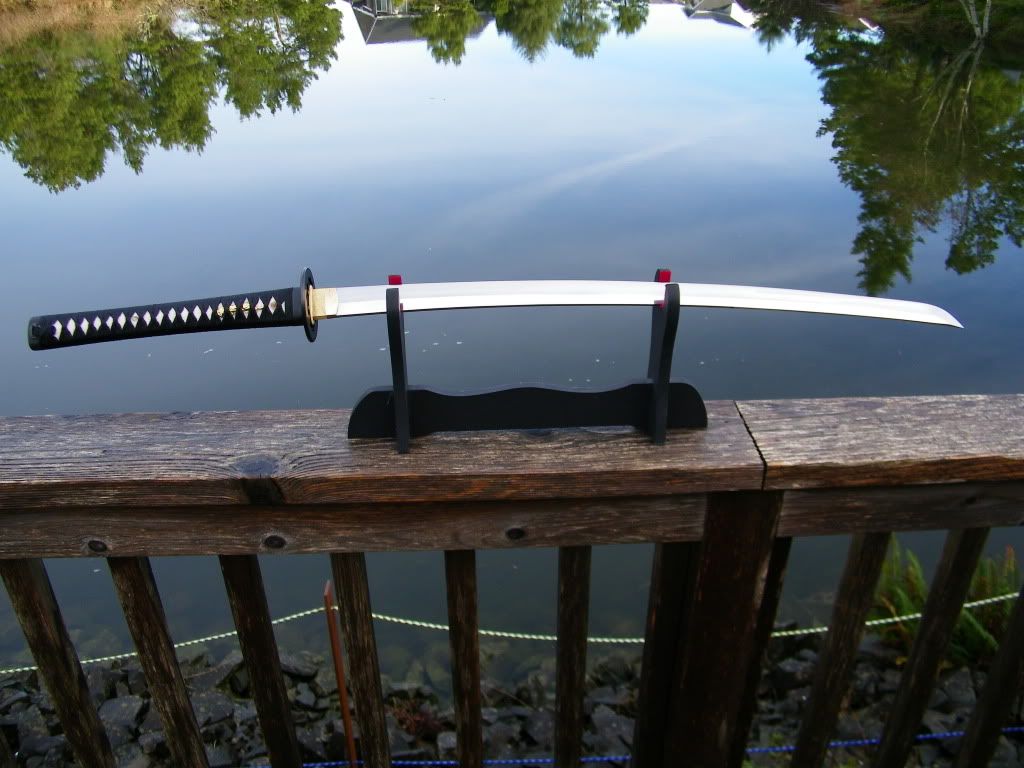 Historical Overview:
The "dōtanuki" (jap. 同田貫 or 胴田貫) is a very thick, long handled sword resembling a katana. The dōtanuki was made to slice through a target with just a single cut.[1] "Dōtanuki" is the name of a Shintô period smithing school in Higo Province (Southern Japan). There were quite a few smiths who used the name dōtanuki, and their swords have a reputation for being very sturdy, having rather broad blades, and cutting well. Made to slice through its target with a single cut, a sword of Dotanuki design is characterized by its thicker and heavier blade. Once a favorite weapon of Japan's feudal warlords, or Daimyo, this sword design was considered to be the apex of military dynamism and power. However, Edo period sword testers seemed to have a different opinion, since dōtanuki blades are not found among the "Wazamono" listings. The artistic features of the dōtanuki swords are rather unremarkable, supposedly due to their lack of the laminated construction.
Initial Impressions:
This sword is VERY attractive and it was the beauty of the item that struck me most the moment I laid eyes on it. It immediately felt very solid and authoritative. This is not a light and fast sword, no sir, this is a heavy cutter. I don't know if this sword really fits the dotanuki style or not since I have never seen a real dotanuki but this sword certainly gives a feeling of being a bit heftier than so many of the lighter production katana on the market. If feels similar to a cheness kaze, and much heavier than a Musashi bamboo (black bamboo/bamboo warrior/etc.) however, it is not unusually wide for today's standard what with all the wide competition cutters out there like the Hanwei Elite and XL lines. To the modern sword collector/enthusiast I think this sword will seem to be of more traditional, if stout, shape and design and I think it will be seen as an attractive alternative for the power cutting style.
Vital Statistics:
Overall length: 39.5 inches
Blade length: 27 inches
Blade width at habaki: 1.25 inches
Blade width at yokote: .75 inches
Tuka length: 11.25 inches
Point of Balance: 4.75 inches
Weight: 2 pounds 8 ounces
Components: Blade(Yaiba):
this is, without doubt the most interesting part of the sword; especially since the large debate centered around it a little while back. Its shape is basic shinogi zukuri with a cosmetic yokote.
The Kissaki is cross polished as is normal with this level of production katana but it is well done and not unattractive.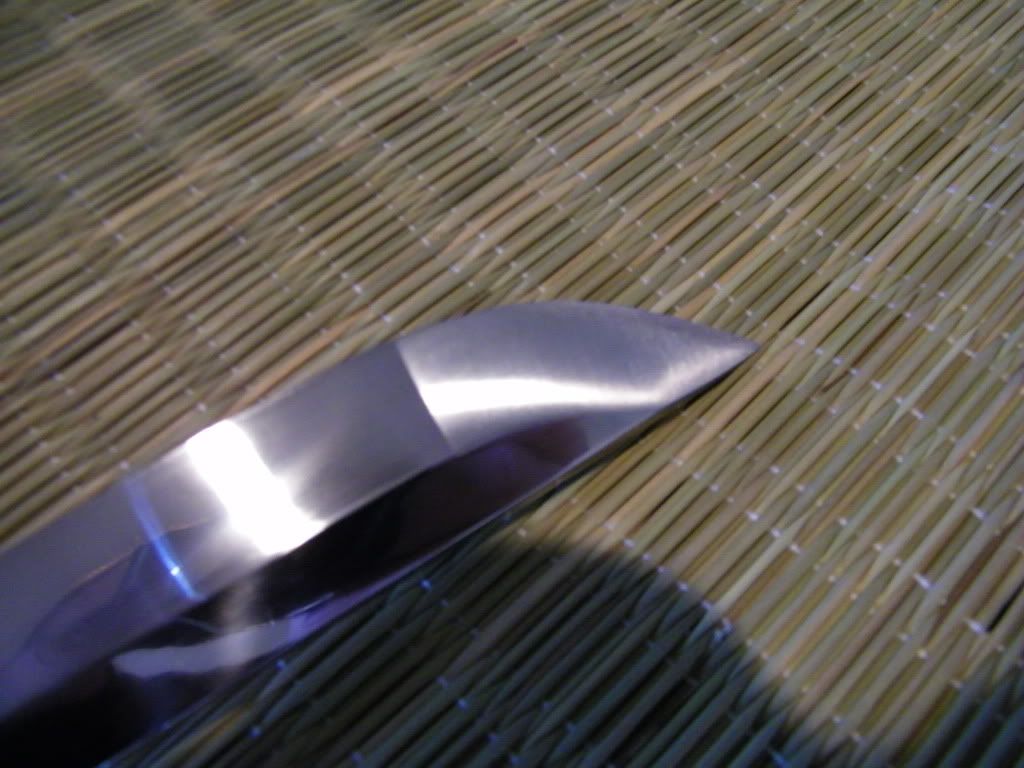 The habaki fit to the blade is good, not great but good. There is a small gap between the habaki and the ji on either side but it is small and the habaki is otherwise well shaped.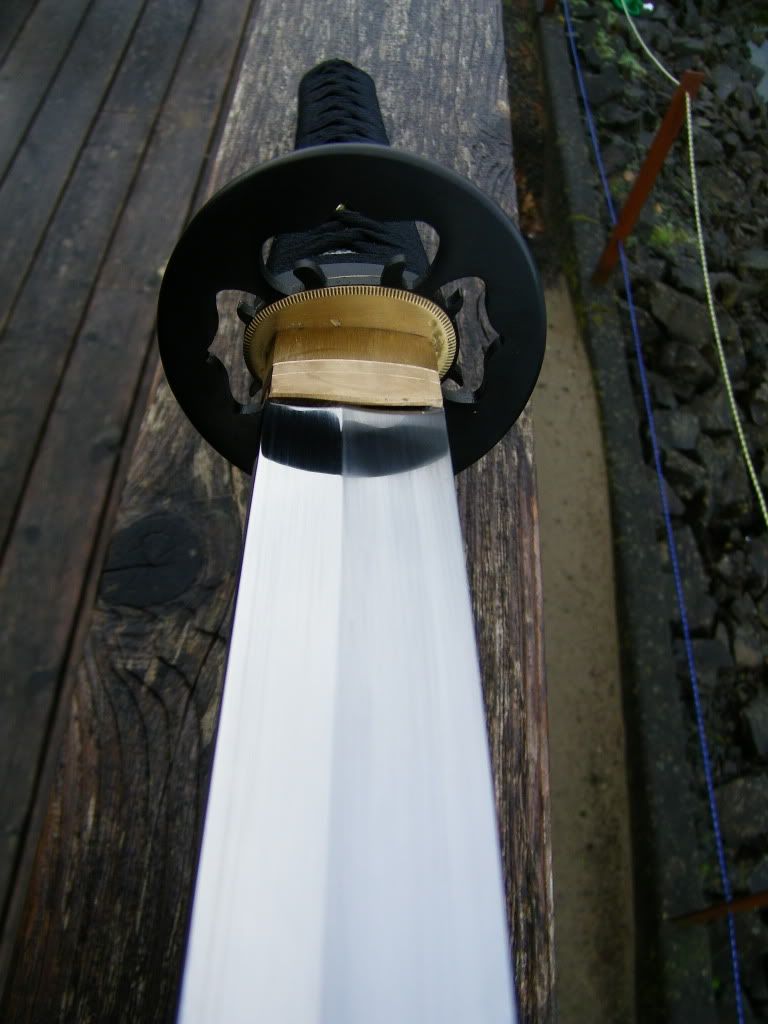 The blade is sharp enough to cut well right out of the box, though not as sharp as Hanwei swords tend to be. I will probably end up sharpening it up to my standards eventually but out of the box it is quite nicely sharp.
This is a Through Hardened line of katana but it was announced that some of them would exhibit some hamon-like activity. This sword has some very interesting activity all up and down the shinogi. It is feint but visible to the naked eye and devilishly hard to capture on camera. If you have ever seen a real hamon that had cloudy parts around it that's what this hamon-thing looks like. It is cloudy and not sharply defined like a good hamon but it is obviously there.
So the question arises: is this blade actually Differentially hardened? My answer to this question is "yes, and no." I'll explain. It is obvious that this blade was not clayed so that earns it a no as a katana that is DH is expected to be clayed. Claying leaves a nice distinct hamon, and in fact the reason (metallurgically) for the clay is primarily to control the hamon and where it forms and to concentrate it to make it more obvious. However, Kris Cutlery makes their hamon without clay and they are accepted as DH by everyone I have spoken to. The pure fact that we have this sort of activity means that there IS a change in the hardness of the steel and this temper-line is the evidence of that change. During my test cutting with this sword I beat it pretty hard and I did bend it a few times. From bending and straightening it I can say it feels like other DH blades I have handled and not at all like TH blades. It is not as springy as TH blades, it has that stiff bendable feeling that all the other DH swords I have handled also have. All this isn't enough though, I had to go further. I took a file to it. I pulled out my favorite sword file, one I have used many times on other swords so I know how it feels on a blade. The area near the cutting edge is definitely harder than the shinogi ji or the mune. The difference in how eagerly the file bites is pretty obvious. After I had done the cutting the blade needed cleaning and polishing so I did all that and etched it too. The first round of etching started showing the hamon again in the same place so now I am confident in saying that it was for sure the structure in the steel and not some trick of polishing or something. So is this sword DH or TH? I think I can call this particular sword DH but as I understand it not all the swords in this line will have this sort of activity so they should be considered TH but you might get a DH one.
Tsuka: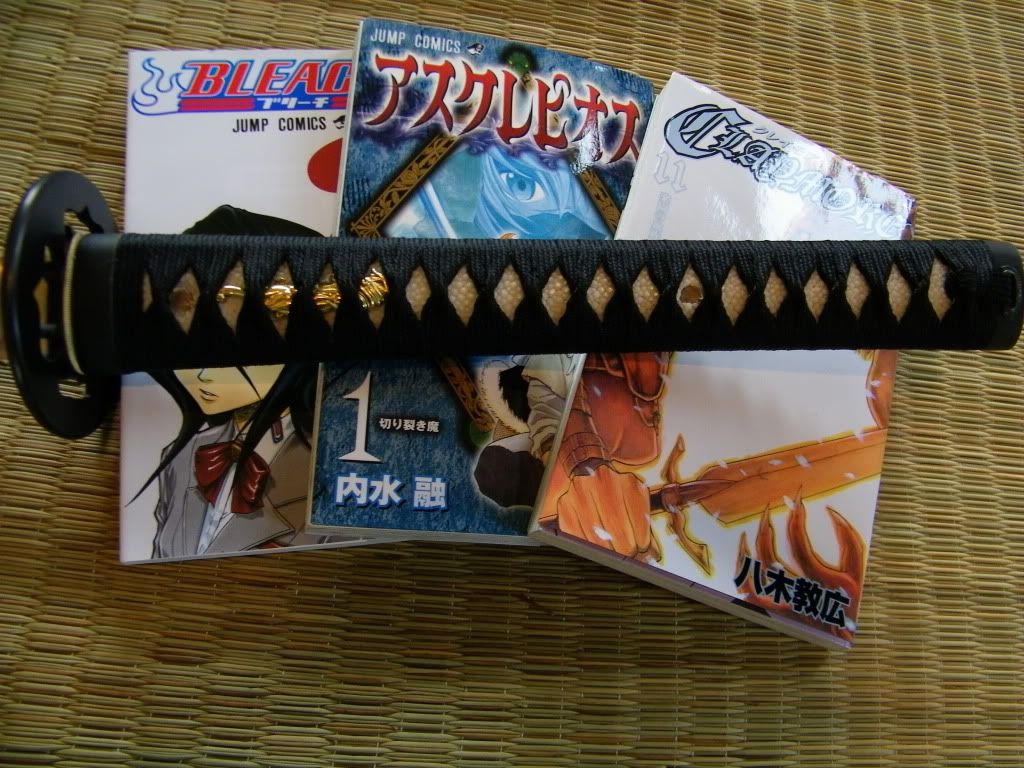 this is a really well done tsuka for the price range. It is nicely waisted, very comfortable to grip, the ito maki alternates properly and is quite tight. The samegawa is very good quality with large nodes, one solid unbroken piece and good even color. The Menuki are some sort of critter but they appear to be well cast with clean lines, I just don't know what it is.
The ito seems to be good quality chemical silk and feels very pleasant and grippy. I know the description on the SBG store says it is silk but it feels like Synthetic silk to me. I am not an expert on this so I'll give Ronin Katana the benefit of the doubt and accept it as silk even though the same ad claims the fittings are all iron when they are obviously copper or copper alloy.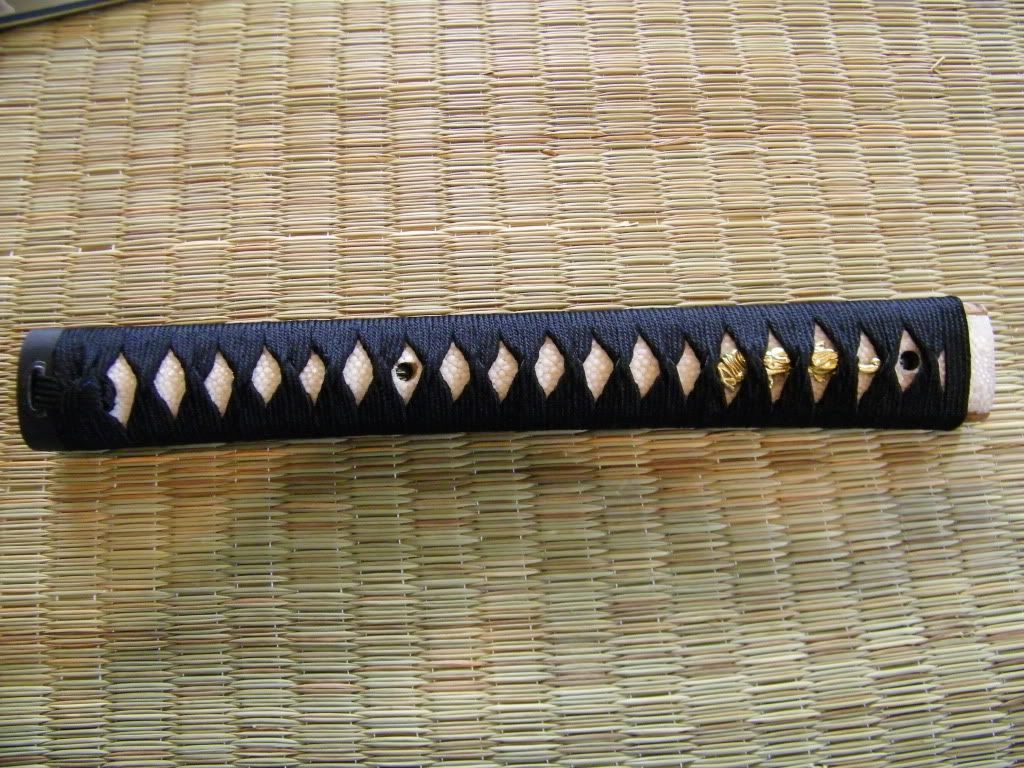 the woodwork for the tsuka is very solid and good. no cracks at all nice and safe tsuka.
Tsuba and tsuka parts: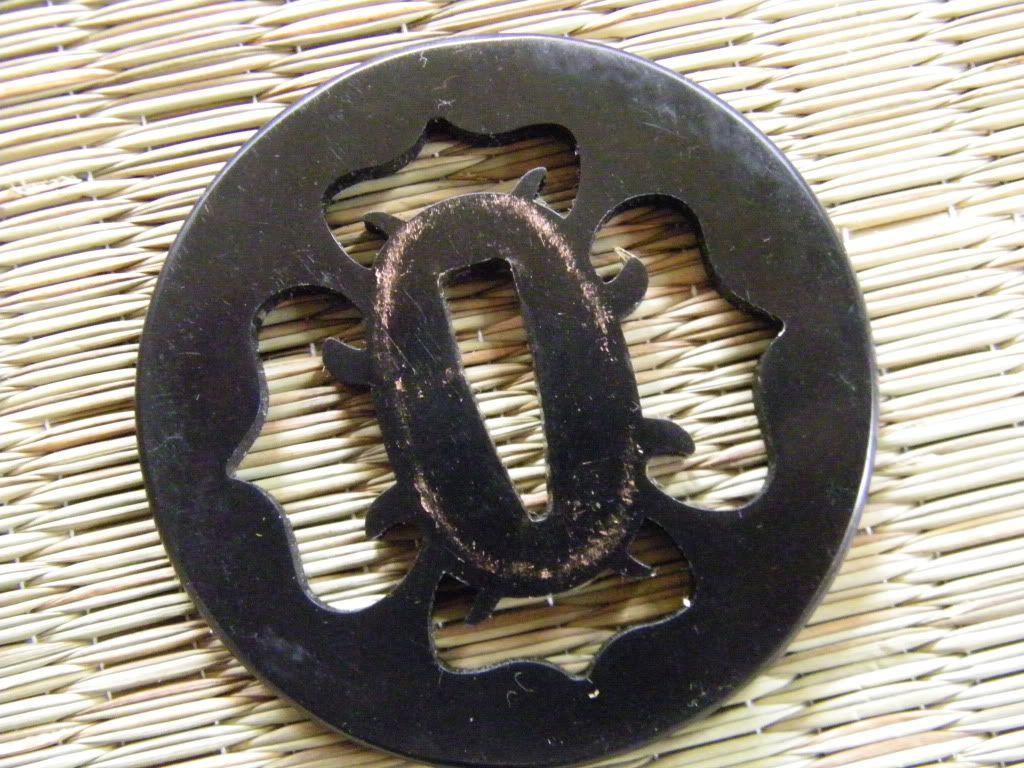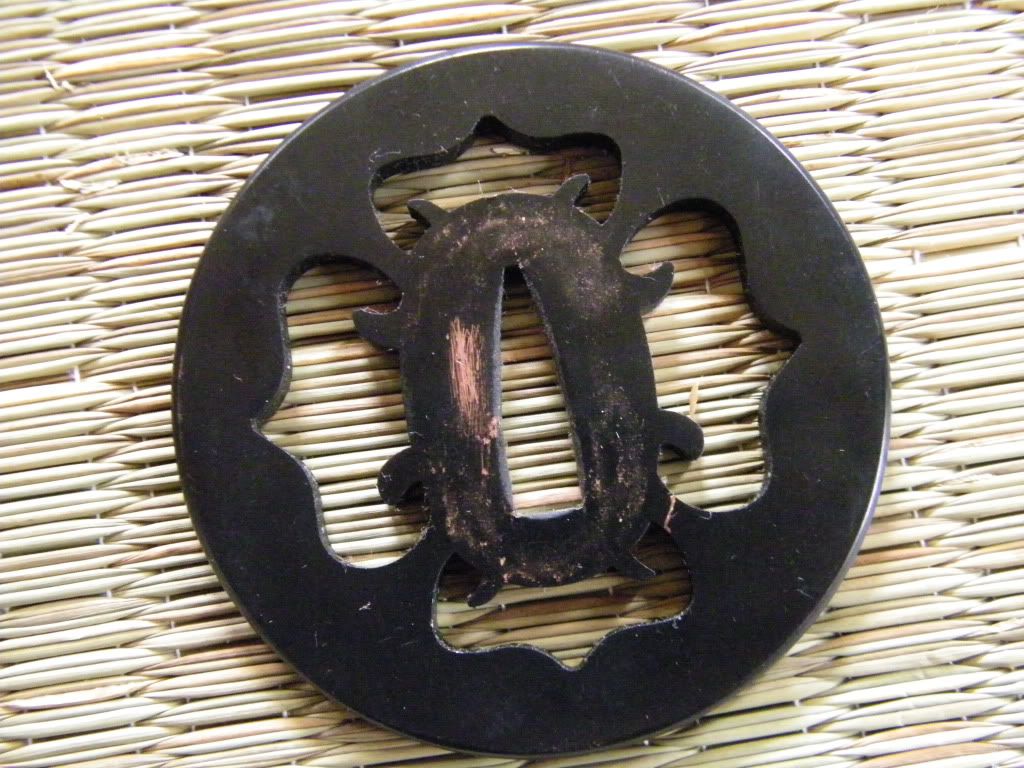 The tsuba is solid copper (or coper alloy) and painted black.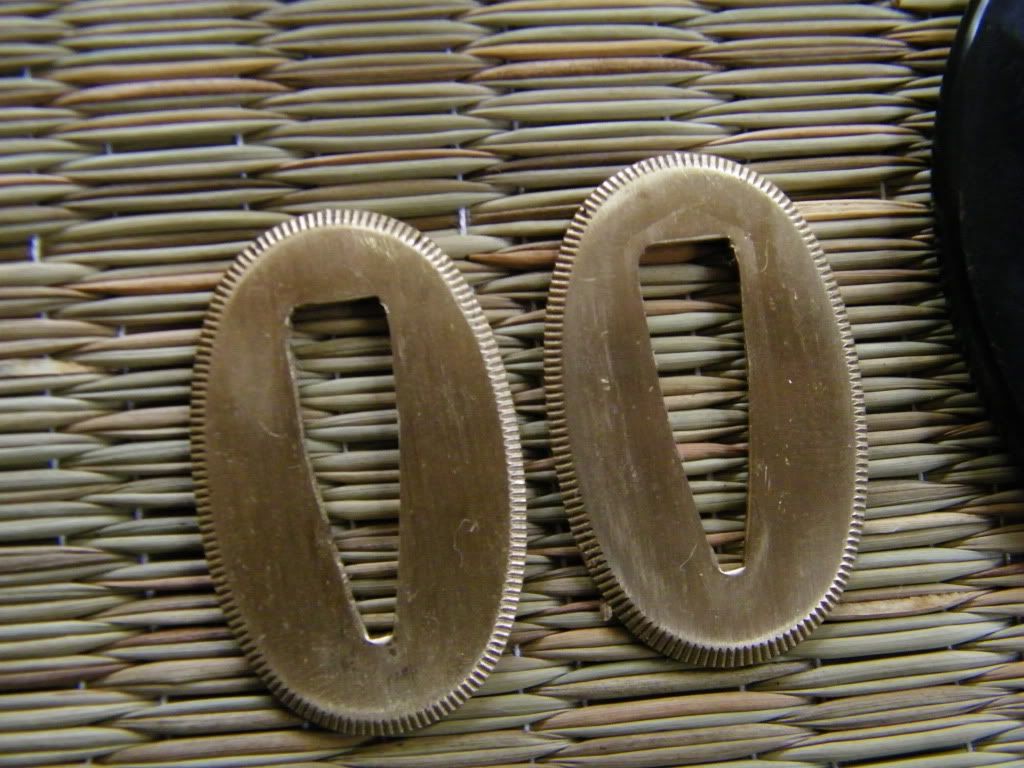 I really like the seppa Ronin Katana uses, they are similar to the ones used on mid-level Hanwei swords. In fact all the fittings on the Ronin Katana are of similar quality to what is used on mid-level Hanwei swords like their popular Wind and Thunder. For a sword in the Sub $300 price range to have such nice fittings is really impressive the fuchi and kashira are very plain but well made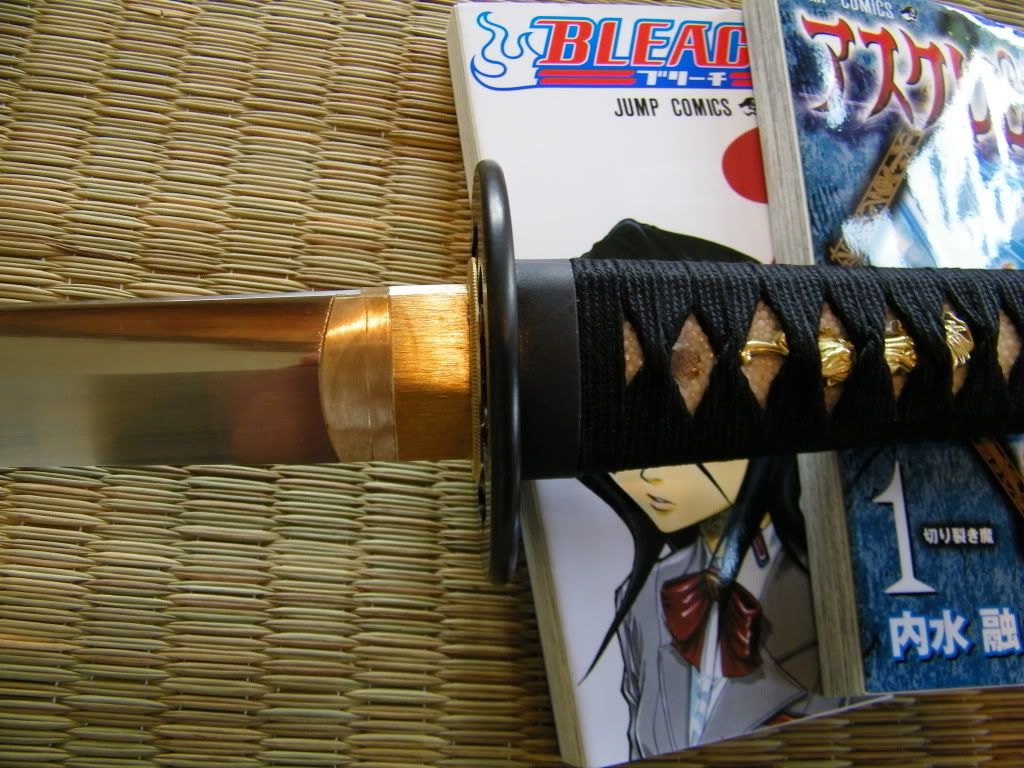 Saya:
The saya on this sword deserves a little bit of love all by itself. I can't tell you how happy I am to see a sub $300 sword with something other than a plain gloss black saya, not to mention a design that is actually very attractive all on its own. The sageo is bar-none the best quality sageo I have seen on a sub $300 katana and its color pattern is a gorgeous compliment to the black and white paint on the saya. The kurikata, kojiri, and koiguchi are all very obviously high quality horn and it is visible immediately.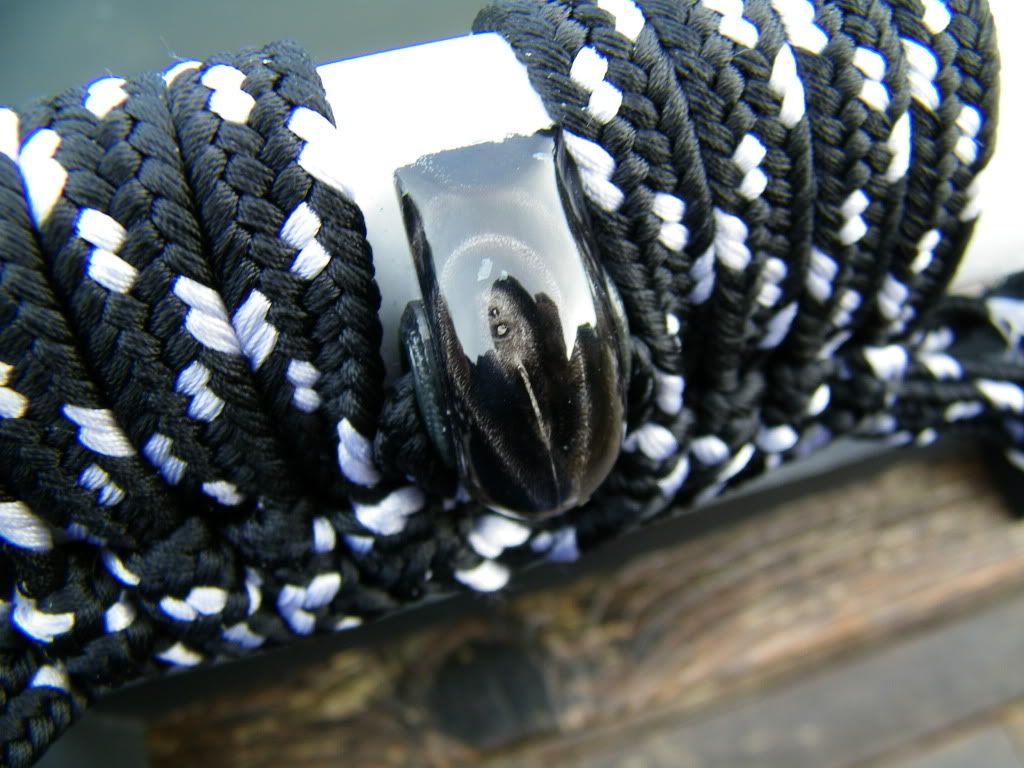 I have never seen such nice horn fittings on any saya I have ever seen especially the kurikata which I love. Not even the Hanwei Bushido has a nicer kurikata. This baby is posh!
Fit and finish: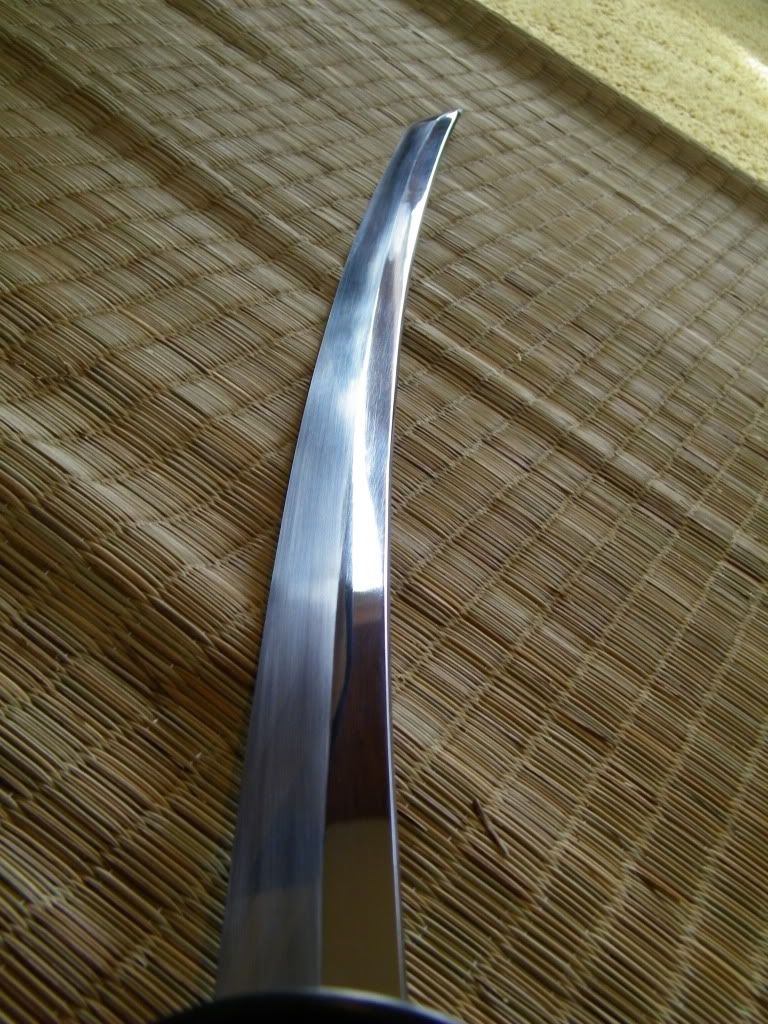 The finish on this sword is very well done. The shinogi ji is a near mirror finish and the ji is a very bright satin. There are a few minor scuffs here and there but nothing that would ever annoy me.
Fit is one of the places this sword really shines. The tsuka fits tight and secure but was not jammed on so hard it was difficult to remove for a safety inspection. The sword fit to the saya is really exceptional. Just check out this video:
Handling and Cutting: I have to admit that handling is not one of the things that really impressed me about this sword. It isn't bad but neither does it stand up as good as the rest of the sword. This sword is a heavy cutter and not a light fast fancy cutter. There's plenty of power in it but it just doesn't turn the way I really want it to. This may just be a personal nit-pick and I won't call it a negative but if you are looking for a fast sword, this isn't it. With some practice I'm sure I'll get used to it and come to like the way it moves better. But you all want to see it cut some stuff up don't you? Of course you do.
In this next video I proceed to abuse this sword to see what it can take. Please don't think that just because this sword survived me doing this to it doesn't mean you should do it to yours. I bent this sword a few times doing this and I still haven't got it 100% straight again. So enjoy the video but don't do this to your sword.
Conclusions:
This sword has a lot of things going for it and is without doubt one of the highest quality katana available in the price range. As a result of the abusive testing the sword is no longer as tight and solid as it was before. It survived without any real damage though. I re-inspected the tsuka afterwards and no hint of cracking to be seen. The kashira has come loose a bit and rattle now but stays in place. The Shitidome in the kurikata on the saya have come loose and popped out of the kurikata, but other than that the sword is still as sound and ready to cut as the moment it came out of the box. I like this one a lot.
Pros:
Beautiful – the finish, the saya design, the fittings, everything about this sword is pretty, I'd be proud to put it up on display for the neighbors to see.
The Saya is a breath of fresh air and a beautiful design.
Fit the fit on this sword is amazing.
Waisted tsuka feels good in the hand
Properly alternating ito maki (it is so nice to see this on a sword in this price range.)
Cons:
DH or TH? I don't know what you will get, we have to assume they are TH swords but the one I have doesn't act like a TH sword.
There is basically nothing wrong with this sword, sure there are things that could be done better but that would require greater cost. Sure, we'd all like real silk ito and full wrap samegawa and emperor nodes and more detailed fuchigashira but those thing come with higher cost and Ronin Katana did a really good job of building this one on a budget. Over all it is a better built budget katana than any other I have ever seen.
THE BOTTOM LINE:
I definitely recommend this sword to anyone who likes authoritative katana with attractive fittings. It is great for the beginner as it is forgiving of mistakes and easy to fix if you do happen to give it a bend. It is also good for more advanced katana files and sword students who want a traditionally shaped heavy cutter but don't want to break the bank and who are sick of the cut-corners found on so many budget level katana. Basically if you like medium to heavy weight katana this is a good sword for you. If you want a super light and fast cutter this isn't it.
UPDATE! as pointed out by Chris of Ronin Katana the tsuba, fuchi, and kashira ARE in fact iron. they have a copper coloer primer that is very tough which led me to believe they were copper. thanks to Chris for pointing that out.