Post by Daniel Sinclair (Sept) on Apr 28, 2009 13:29:07 GMT -5
Introduction
People who know me in the sword collecting world know that I'm always looking out for the best deal. I want to get the most bang for my buck possible - which is a good thing, because especially in this day and age people are more than willing to charge through the nose for increasingly inferior products. My prudence can also be a bad thing, because it leads me to find little disappointments in every sword I own - going right for the flaws like a guided missile is a habit that for some needs to be cultivated, and for others (like me) I need to pull it back a bit - not to avoid mentioning flaws, but to avoid letting little things cause me to become so disappointed with a sword that I "kick it to the curb."
But I digress. Anyways, I am always looking for a good deal. So when Chris of Ronin Katanas - not to be confused with Roninswords - joined the forum, I started checking out his products on his site. And I was surprised (and a little skeptical) by what I saw. Iron fittings? Silk ito and sageo - with the ito done in alternating style wrap? And the price tag was less than $200 US for most of the colourful and diverse designs. I found other reviews of his products on the forum and they seemed to be positive, so I dropped him a line and arranged to see one of his swords first hand. I was very curious at this point what would be the result; a katana for $175 that was relatively unknown was soon on its way.
Historical overview
Dragons were common themes for sword fitting designs in much of the ancient word, Japan included. That's about all that I can add here.
Initial Impressions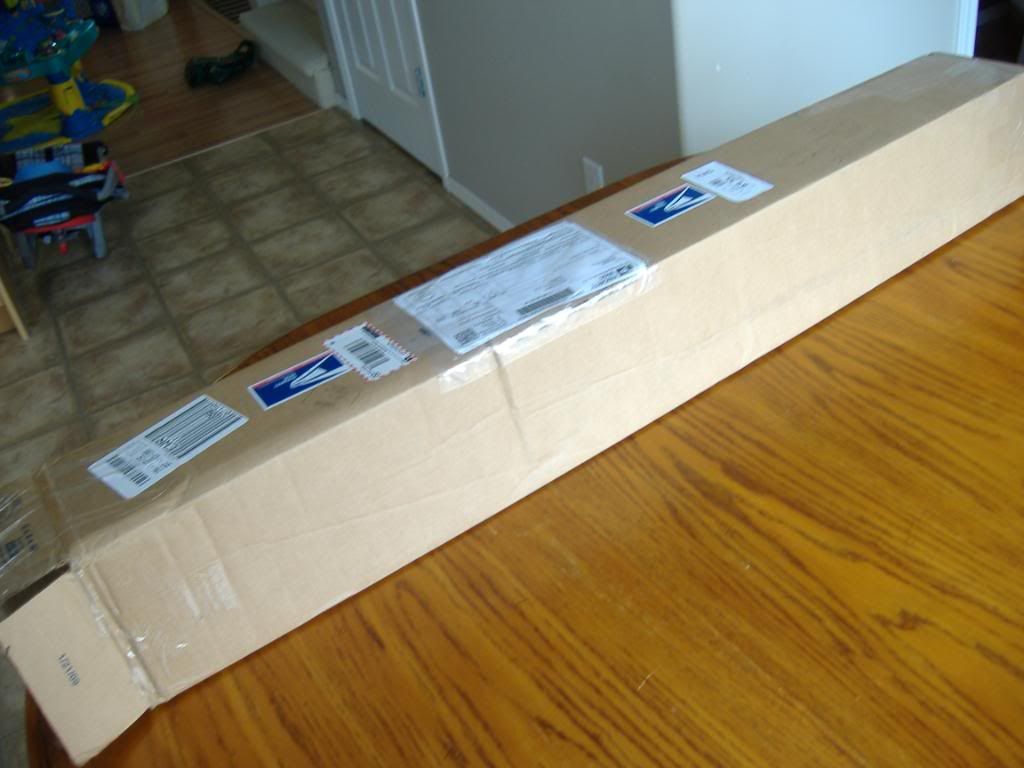 The Iron Dragon katana arrived in a little over a week, inside a cardboard box with foam inserts, which was inside yet another, larger cardboard box with packing material and an upright shogun stand (assembly required). The box looked scuffed but relatively unharmed, and I was pleased to see that the sword survived the journey.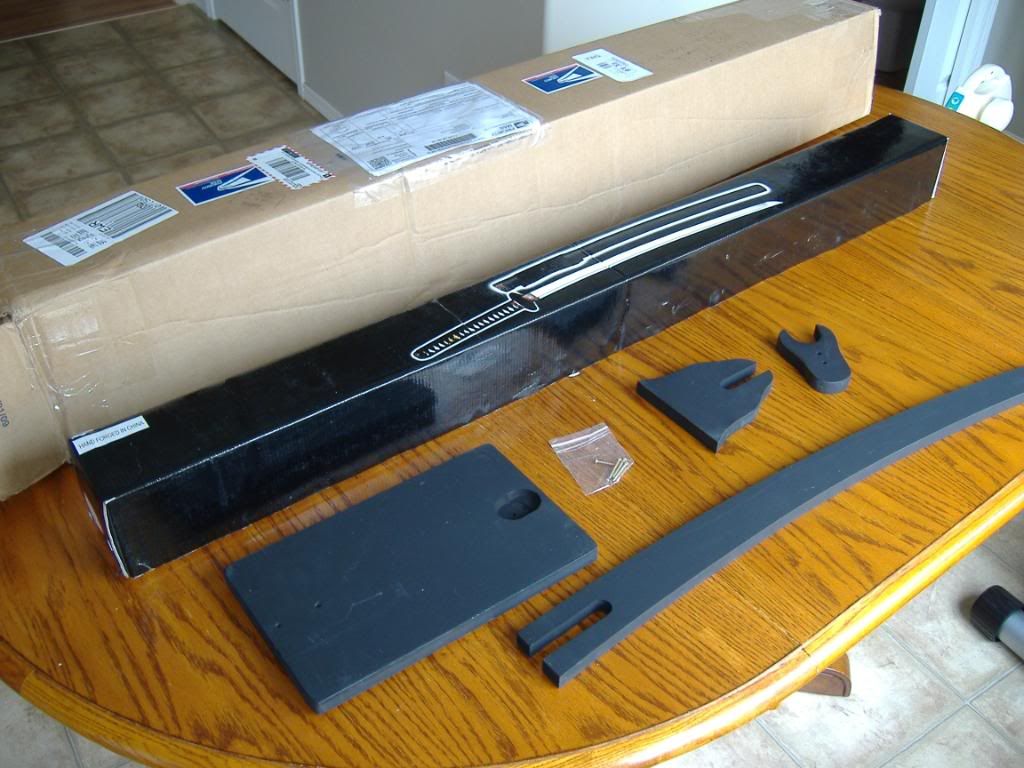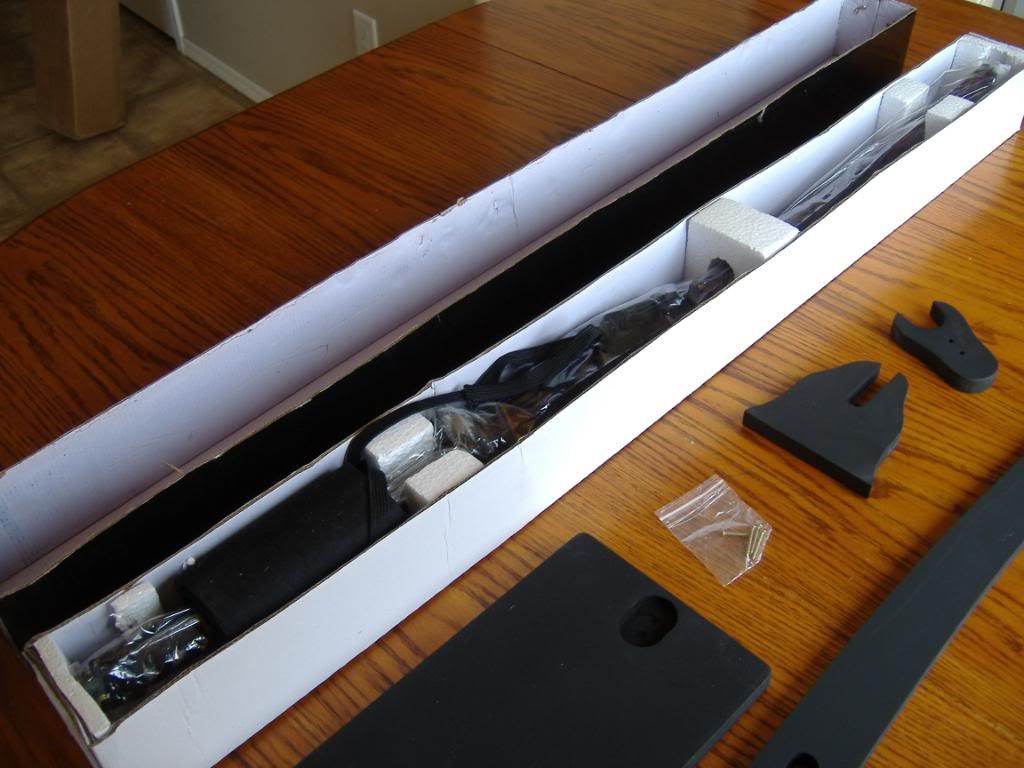 The first thing that jumped out at me when I saw the sword was the deep maroon of the saya. The pictures on the website don't give it much justice, it was very deep and rich. I liked it much more at first glance than I thought I would. As I pulled it from the box (and set aside the extras - the stand and the rough cotton sword bag) I was pleasantly surprised by the overall tightness of the construction - it made a very good first impression. So how would it hold up to more scrutiny?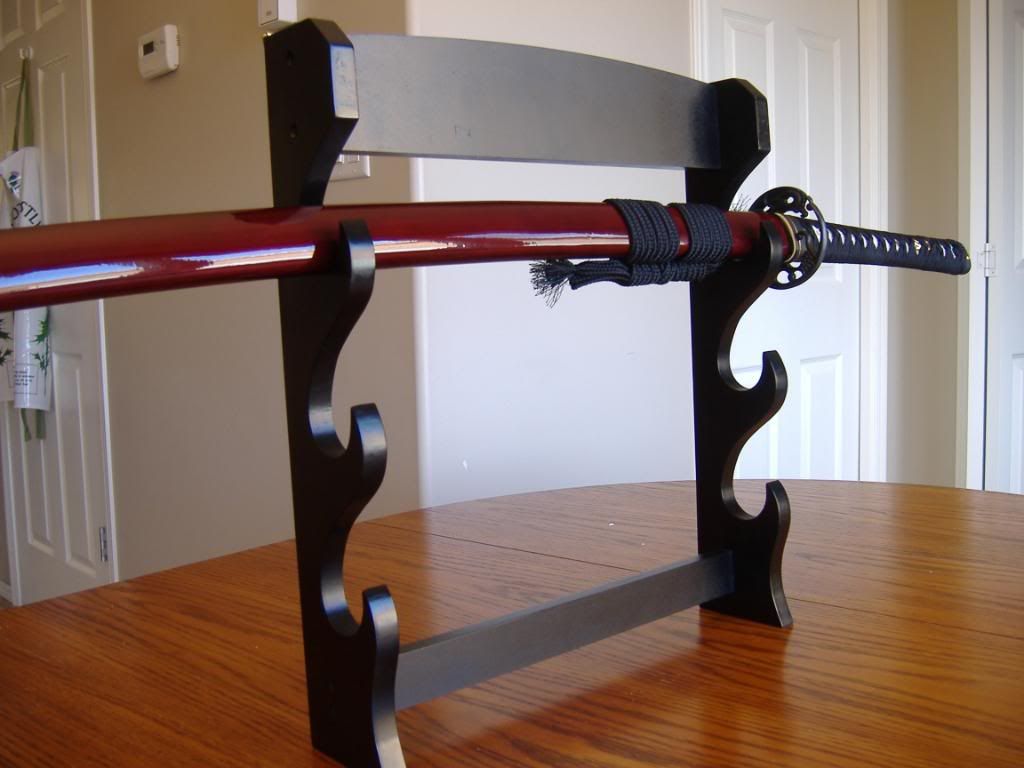 Statistics
Blade/Nagasa Length: 27" (above habiki)
Tsuka Length: 11"
Overall Length: 41"
Tsuba Width:
POB: 5"
Weight: Slightly less than 3lbs (crappy bathroom scale...)
Components
The Blade/Nagasa
This is the first blade that I've handled without a bo-hi, I realized. So I'll comment on that in the handling section. The 1040 steel mono-tempered blade has a utilitarian polish - not quite mirror finish, but what I would probably describe as a "working polish" - I wouldn't feel nervous that it would get scratched while cutting with it.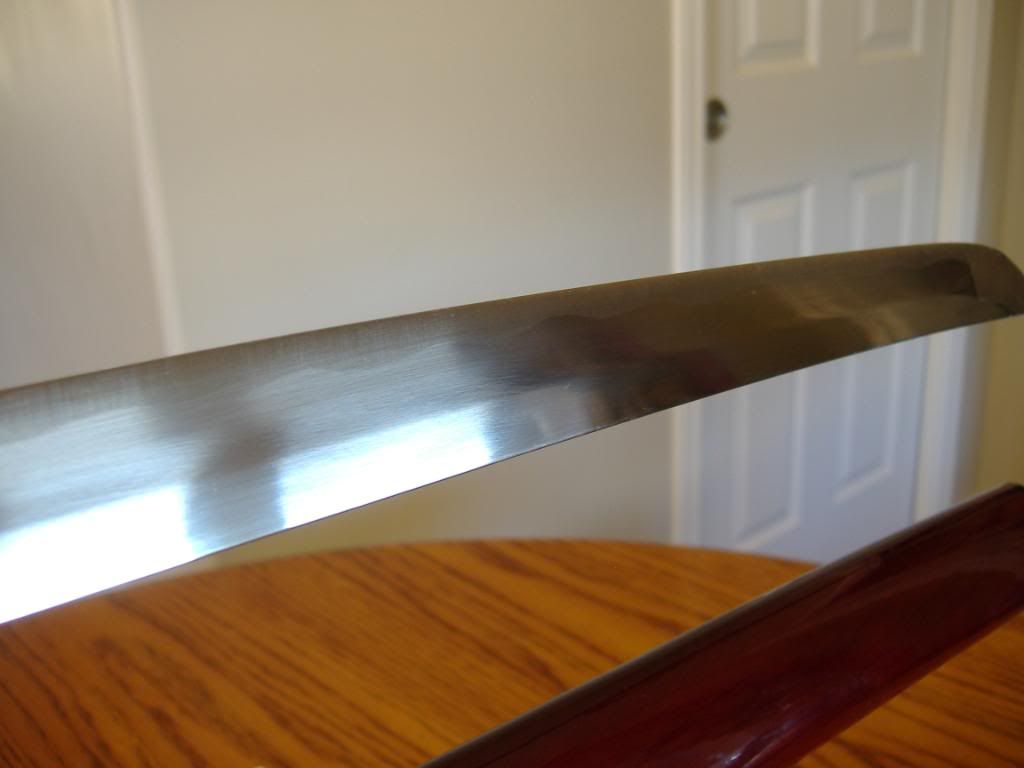 Though the blade is 1040 steel - a relatively softer grade - it is quite thick and well tempered. It flexed well and didn't make me feel like it was likely to bend or break - the lack of bo-hi added to its strength. It was paper-cutting sharp out of the box - according to the website, every sword is given a test cut before shipping. While it sounds like a marketing gimmick, I'd be inclined to believe it after seeing this sword. The blade is as good or better than others in this price range.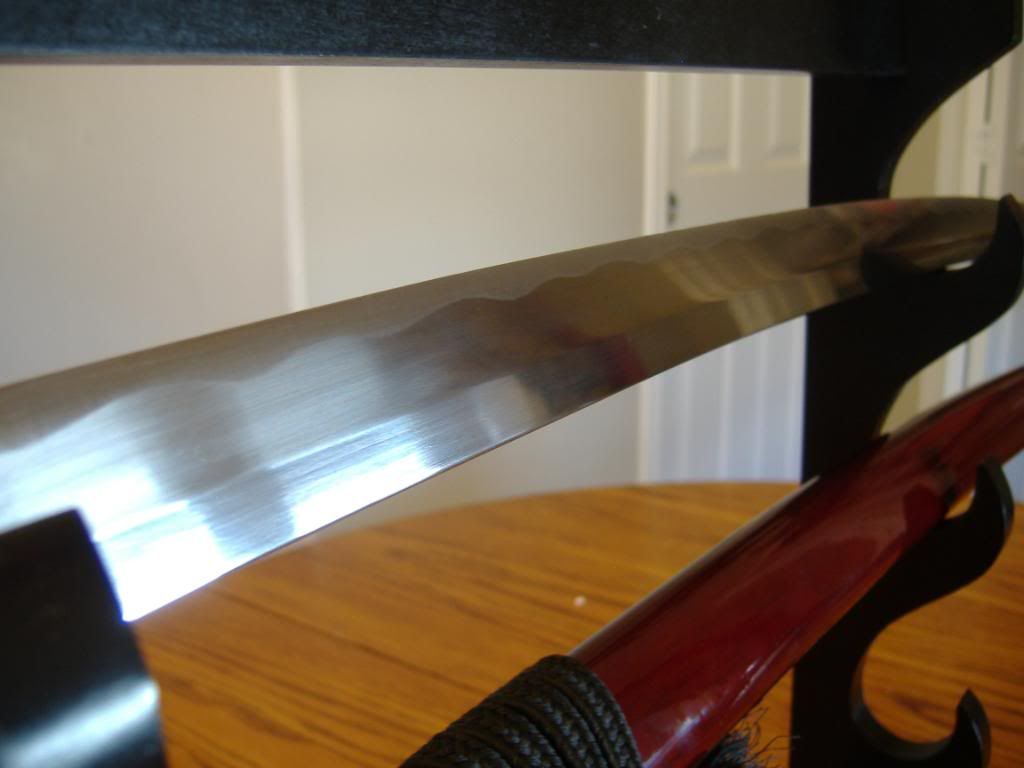 There was very little I could find wrong with the blade. The only exception was the wire-brushed hamon, which when compared to the rest of the sword and fittings seemed quite out of place. I would like an option for bo-hi, but that is my preference and not everyone's. So it's not really a con, but I will list it there.
The Handle/Tsuka
This was the part that I was most interested in seeing for myself. I checked out the ito as soon as I unpacked the sword. Sure enough, it was silk; sure enough, the ito wrap was tightly done in alternating style (which is traditional), and the same was well done underneath. The nodules on the same were quite large in some parts, which reminded me of my Hanwei Golden Oriole katana. In fact, the whole presentation of the tsuka was more similar to my much more expensive Oriole than it was the sub-$300 katanas in my collection... and that was a very pleasant surprise. The biggest difference between the Golden Oriole and the Iron Dragon was that the 11" tsuka on the Dragon was nicely tapered - it felt very comfortable to use and hold. And I can see why people swear by silk wrap... very nice.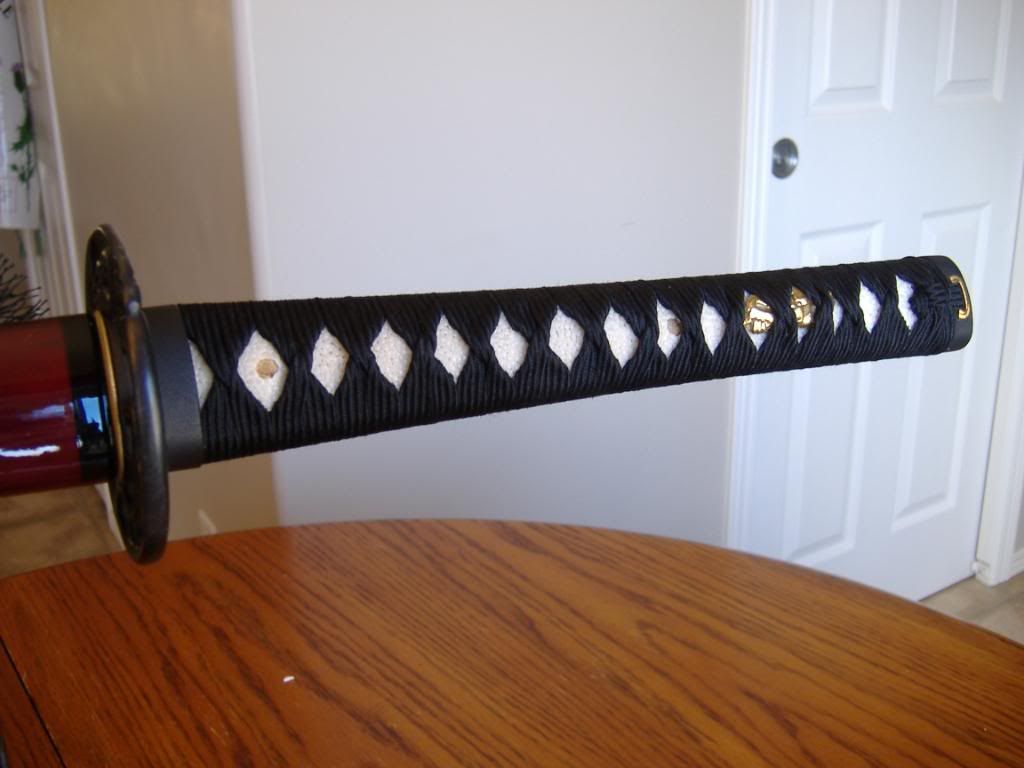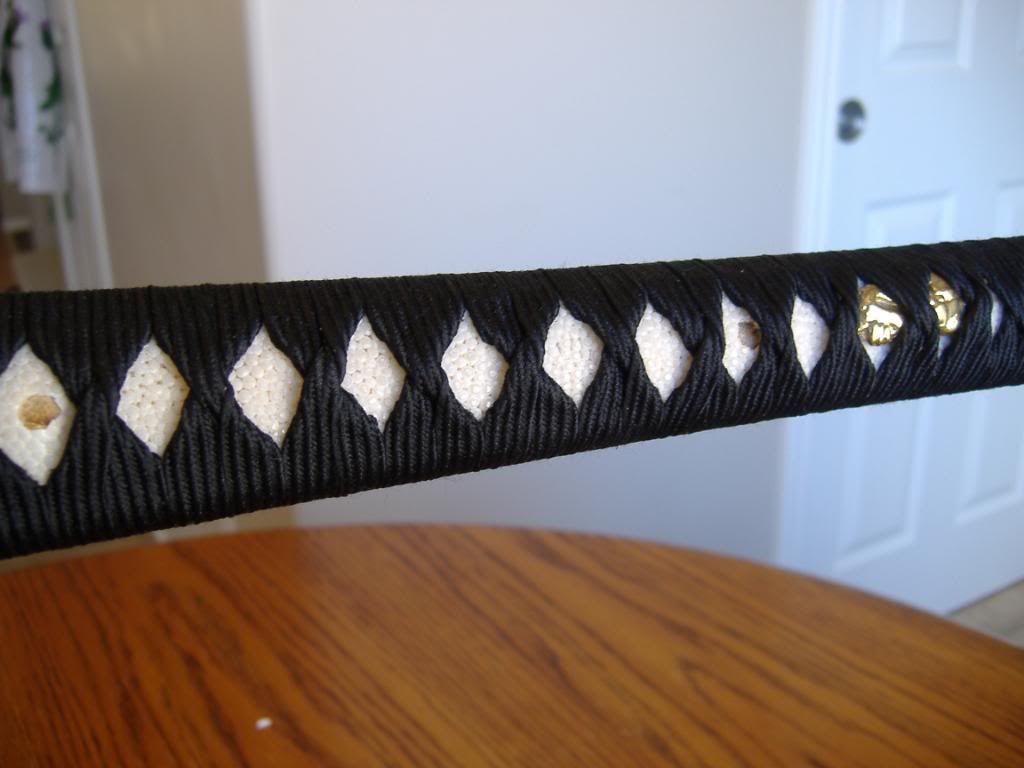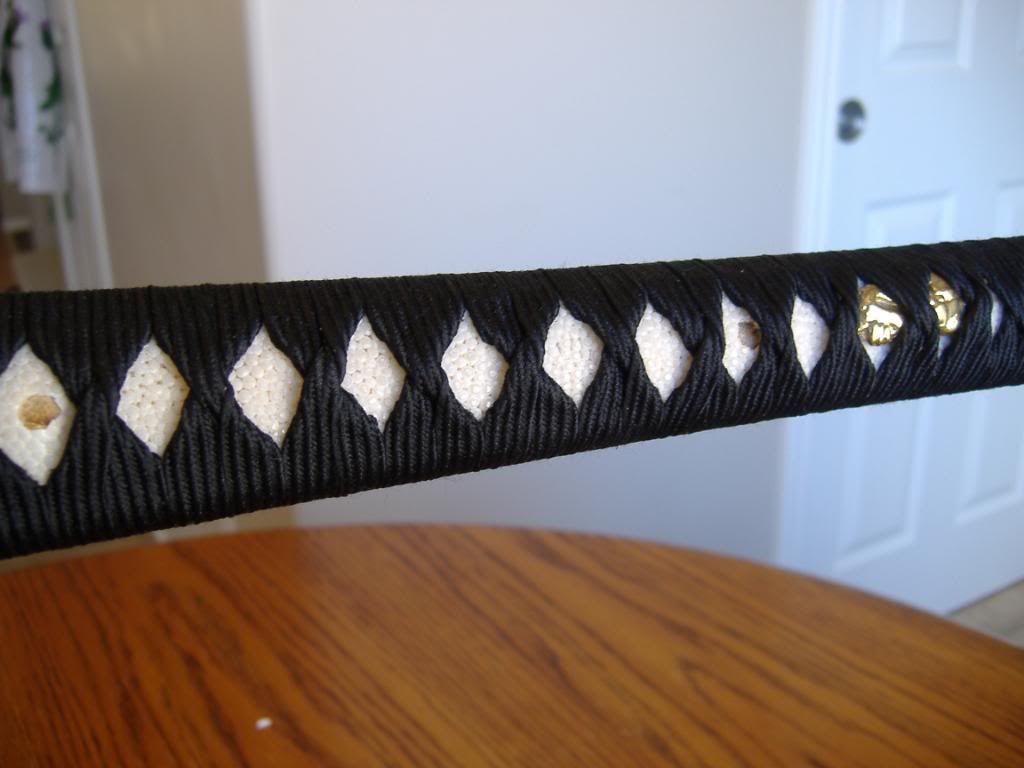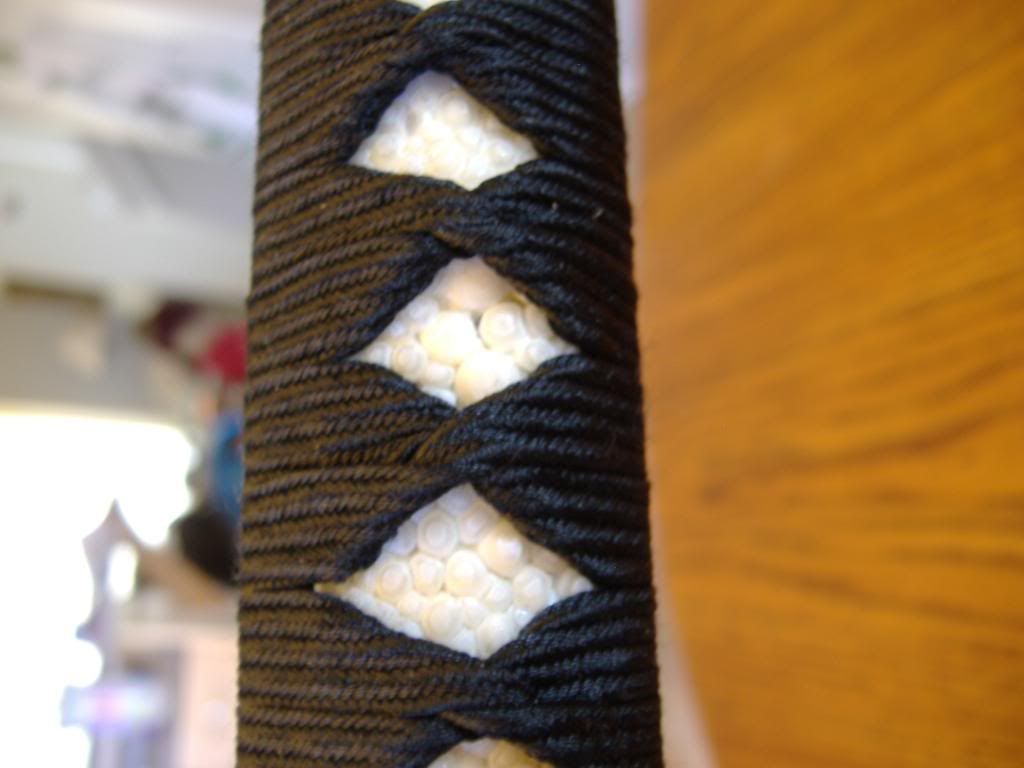 The Tsuba
The tsuba is probably my least favorite design aspect of the sword. The dark iron is good, but it took me a few seconds to figure out which parts of the dragon were which. Once I had I didn't mind it, but as a preference it wasn't my favorite. That being said, it does have an interesting, almost "ancient" look to the shape and form of the dragon, which is a nice touch. Even though it isn't my favorite part of the sword, it isn't a detractor for me. I guess I'm saying that I can appreciate it even if it doesn't make me jump up and down with glee.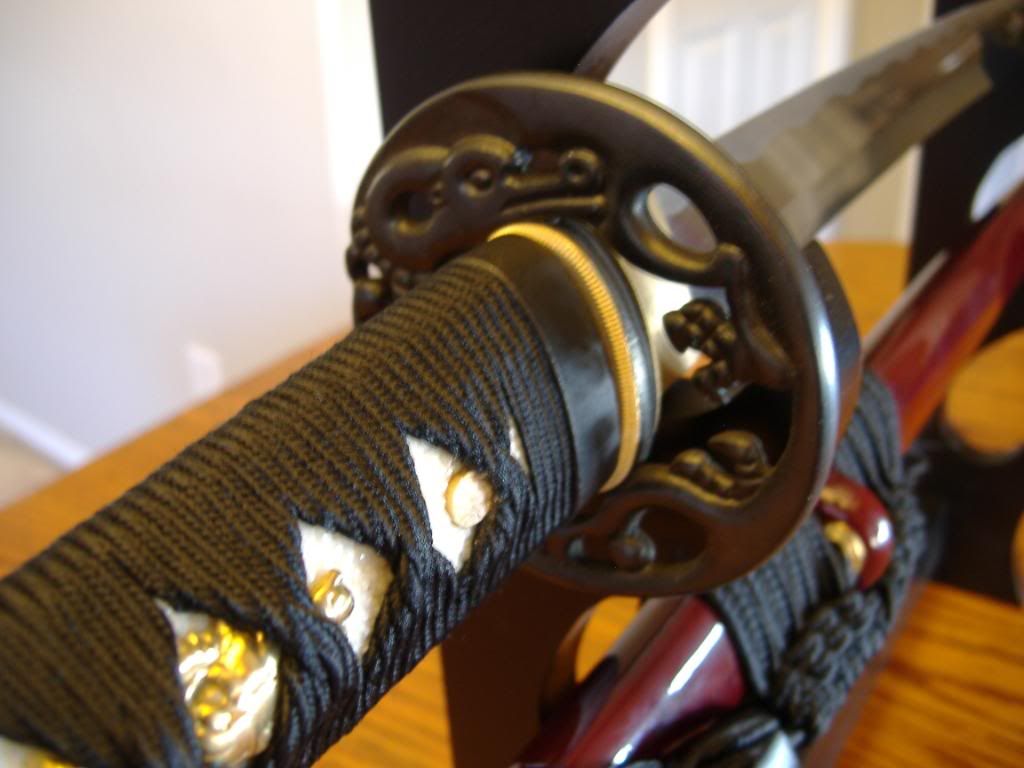 The Fuchi-Kashira
Simple, plain black iron fuchi and kashira round out this design. No faults here except for a slightly loose kashira - not so much that it moves during use, but enough that if you grab it and wiggle it, it will move. Some super glue would fix it, but I still need to mention it.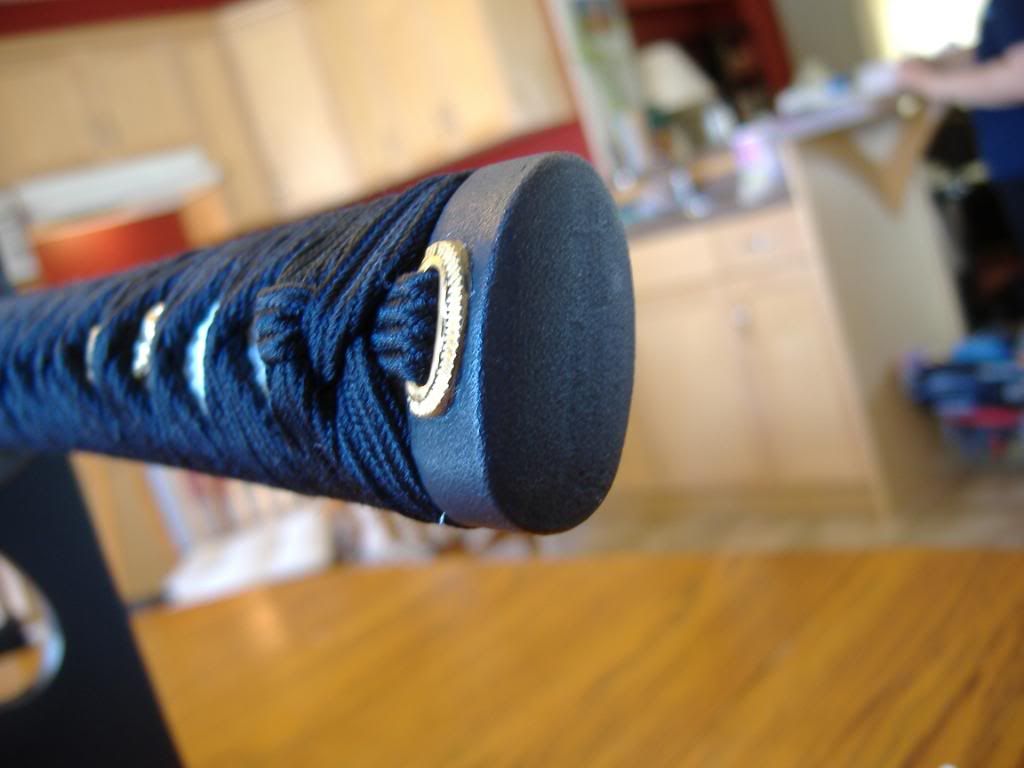 The Scabbard/Saya
This is damn attractive. The deep maroon contrasts very will with the black silk - in the pictures it looks pretty vibrant, too. The saya feels solid and there is little rattling. It is definitely an eye catcher, and when this sword is on the stand with my other katanas it certainly draws attention to it. I'm glad to see a departure from the standard black lacquered saya that everyone and their dog uses.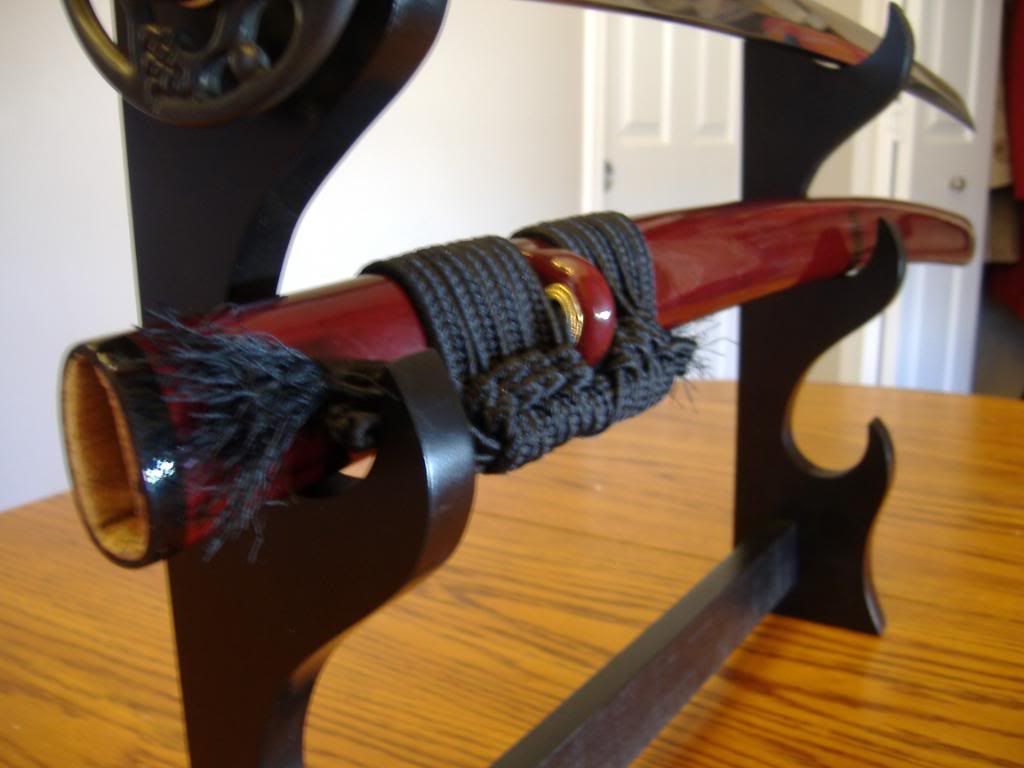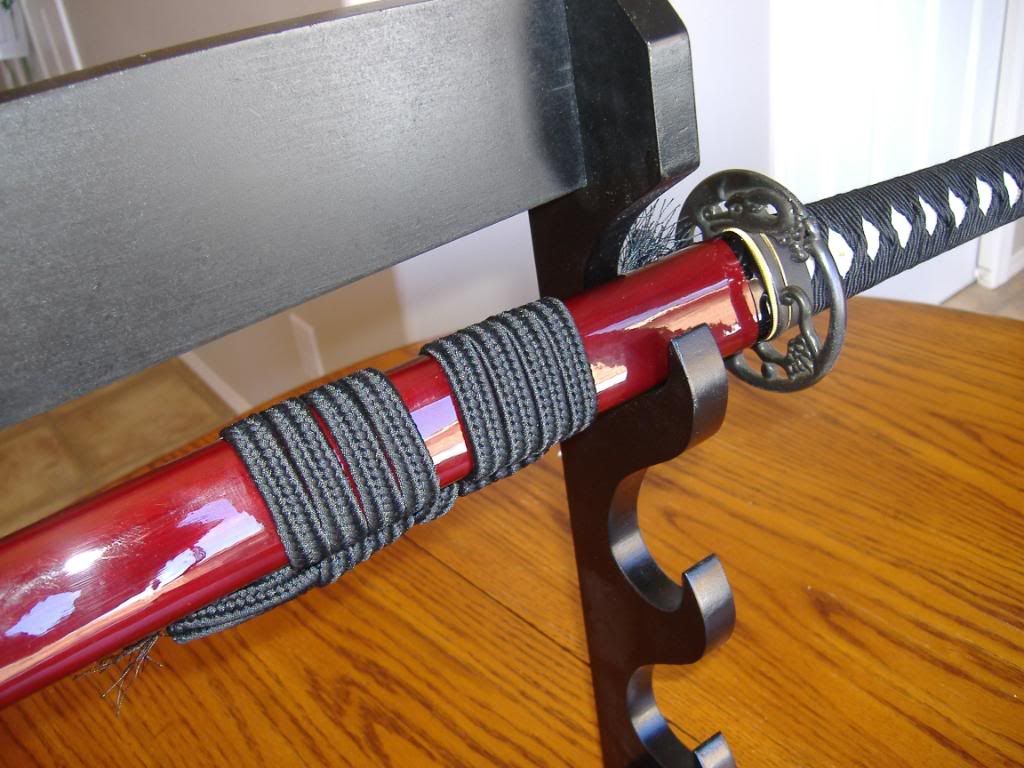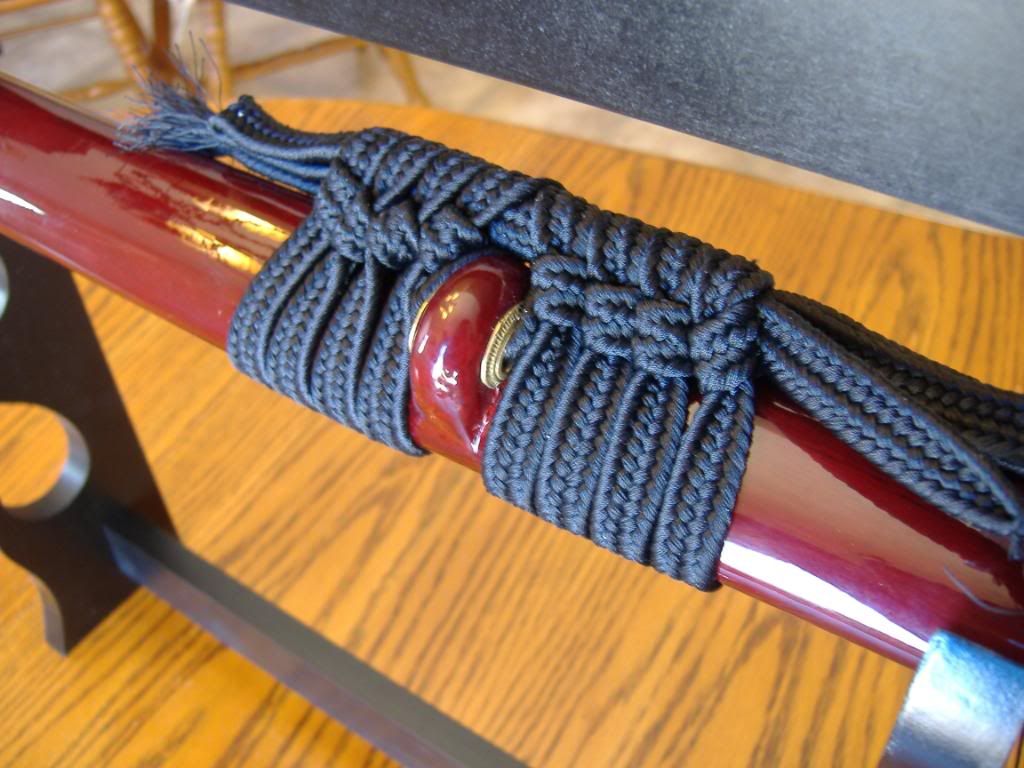 Handling Characteristics
Because this is the first katana without bo-hi I've handled, I wasn't sure what to expect. It is definitely more tip heavy than others I've held, but doesn't feel too difficult to hold and swing. The tapered handle helps with this, as it's easier to get a good grip. I'd say it has average handling.
Test Cutting (if applicable)
The weather wasn't very cooperative, and then when it was I had to be at work. So cutting videos are forthcoming, hopefully by the end of this week. Watch this space.
I will say this - I took the box out (the larger cardboard box it came in) and stood it up on the floor in my basement. Then I took a cut at it, intending to see how far into the box I could cut with the edge on this blade. I didn't expect much because it was an empty cardboard box - and therefore pretty light - and though I might cut halfway though before knocking it over. Not so.
Not only did the Iron Dragon cut completely through the free standing box, but it left the bottom half undisturbed - it was still standing on the floor of my basement, and had barely moved when the top half went flying. This was either a seriously sharp blade or my form was improving - and this was the first cut I'd made all winter, so I can only conclude that the Iron Dragon was a good cutter. I was pretty impressed.
Conclusions
From start to finish I was very impressed with the Iron Dragon. Here was a katana for $175 that in many aspects more closely resembled my $5-600 Hanwei Golden Oriole than it did the other sub-$300 katanas in my collection. Ronin Katana's decision to do away with alot of the "frills" (Certificate of Authenticity, display box, etc) and instead put that money into better fittings for the price is something that should be applauded.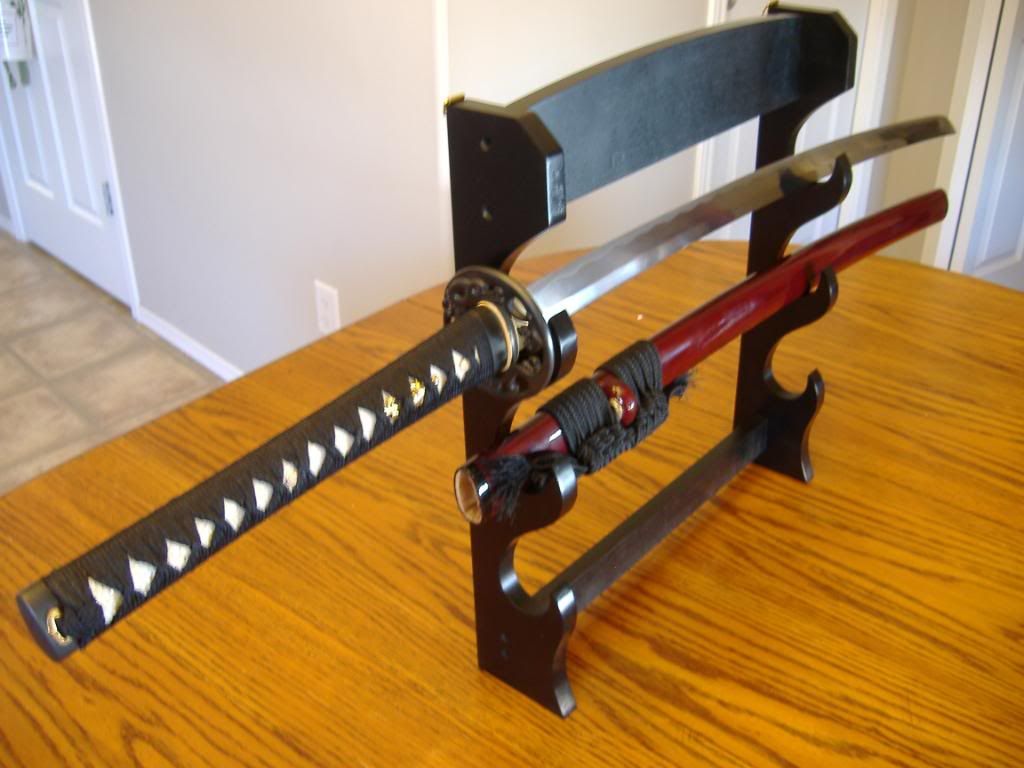 I would like to see a few things changed - namely the wire-brushed hamon. I would prefer if bo-hi was an option, but that certainly isn't a major issue. It would be great if other kinds of steel were offered, so I'm curious to see if that becomes a possibility - a spring steel blade in fittings like these could easily rival some of the mainstays of the sub-$300 katana market.
Ultimately this is a great little sword, and I'm certainly glad it found its way to me. Based on this experience I wouldn't be surprised if Ronin Katanas becomes one of the "forges to watch" for 2009 and beyond. If you're interested, I'd recommend checking them out - the diverse designs and colours should hold something for everyone.
Pros
- Nice Silk ito (alternating wrap) and sageo
- Attractive scabbard colour
- Tight iron fittings
- Paper-cutting sharp blade out of the box with good flex (well tempered)
- General high quality for the low price - value for money is excellent
Cons
- Wire-brushed hamon
- No option for bo-hi
- Slightly loose kashira
The Bottom Line
I would recommend this sword as an attractive beater and functional display sword with excellent value for the money.